Air Travel Tips
Overview
A collection of helpful tips and information to help you protect yourself while traveling.
Top Questions
For additional information on these topics, click "Other Consumer Tips" above.
Before the flight
At the airport
During the flight
At your destination
After your trip
---
Before the flight
Be flexible in your travel plans.
The best deals may be available only on certain days of the week or particular hours of the day.  The lowest fares are often blacked out during holiday periods, but you might be able to get a discount fare if you fly on the holiday itself.
Plan as far ahead as you can.
Most airlines set aside only a limited number of seats on many desirable flights at the lower rates.
Compare fares of different airlines.
A connection (change of planes) is sometimes cheaper than a nonstop, but it involves the risk of a misconnection if your first flight is delayed.  If you have a connection, make sure your itinerary allows enough connecting time.  Flights early in the day are less susceptible to delays.
If you have a choice of nearby airports, your fare could depend on which airport you use.
Also, if the city where you live or the city where you are going is an airline "hub," fares may be higher than for flights to or from other nearby cities because of reduced competition.  You might save money by leaving from another nearby city.
Most airlines now charge for checked bags.
Some airlines charge a fee for ticketing depending on whether you purchase your ticket on the web, by phone, or at the airport.
Most airlines charge extra for preferred seats.
If you want an advance seat assignment next to your traveling companion or family and the only available adjacent seats include a preferred seat, you might have to pay a fee.
Many airlines offer early boarding for a fee.
Except on longer international flights, you will usually pay for any in-flight meals or snacks, if offered, as well as for any available internet service, video entertainment and audio headsets.
Most air fares require payment when you make the reservation, and most discount fares are non-refundable.
DOT requires airlines to either hold a reservation for 24 hours without payment or refund a paid ticket — even a non-refundable one — if you cancel within 24 hours of purchase and you purchased your ticket more than 7 days before your flight.
Airlines are free to choose between holding a reservation without payment in these circumstances or refunding after payment; they don't have to offer both options.
Avoid putting the following in checked baggage:

Valuables (e.g., cash, jewelry, expensive electronics).
Critical items (e.g., medicine, keys, passport, tour vouchers, business papers).
Irreplaceable items (e.g., heirlooms, original photos).
Fragile items.  Consider shipping them in advance.  If they must be checked, wrap them carefully in padding.
Perishables
Many airlines limit their liability for loss or damage of these items on domestic trips.  Try to carry them on your person or in a carry-on bag.
Put items that you will need during the first 24 hours in a carry-on bag.  Although most checked bags arrive on time, some may be delayed for a day or two.
When purchasing a suitcase lock, remember that security inspectors may need to open your checked bags out of your presence.
If you wish to lock your bags, see www.tsa.gov  for information on locks that security personnel can open and re-lock.  If you use an unapproved lock and your bag is selected for inspection, security staff will break the lock if necessary.
Put a tag on the outside of your baggage with your name, address, and phone numbers.
Most airlines provide free "privacy tags" which conceal this information from passersby.  Put the same information inside each bag, and add an address and telephone number where you can be reached during your trip.
Contact the airline well in advance.
Most airlines offer "unaccompanied minor" service.  Depending on your child's age, this service may be mandatory.
Children below a certain age (usually 5 years old) might not be allowed to travel alone.
Older kids might be limited to nonstop or "through" flights depending on their age.
Children above a certain age may not be eligible for unaccompanied-minor service.
Airlines generally charge a substantial fee for unaccompanied-minor service.
Read  When Kids Fly Alone.
Most U.S. airlines accept pets.
Some airlines allow you to choose between bringing your pet on your flight as checked or carry-on baggage or shipping it as air cargo.
Check with your airline to learn about restrictions on carrying pets.
Most airlines will not carry pets as checked baggage during the summer and winter although you might be able to ship your pet as air freight at those times.  Airlines also embargo animals on very hot and cold days, so always have a backup plan for your pet.  Many airlines will not transport snub-nosed and pug-nosed dogs and cats.
You will need to supply an approved kennel.
The kennel for a carry-on pet must fit under the seat, and your airline will probably require that the animal remain in the kennel during the flight and in the airport.  Your pet might count as one of your allowed pieces of baggage, and there may be an additional fee for the pet as well.
Check with your airline to learn about all requirements for pets.
You may have to supply a health certificate from a veterinarian, and certain destinations may require a quarantine period upon arrival.
---
At the airport
Check-in deadlines can vary by airline and airport.
You can find the check-in deadlines for your flights on the airline's website and perhaps on your e-ticket confirmation.
In most cases, you must be at the gate no later than 10 to 15 minutes before scheduled departure time for domestic flights.  For international flights this deadline may be 45 minutes or longer.
Allow time to check a bag and pass through security.
Airlines may impose an earlier deadline for obtaining a boarding pass and seat assignment.
The most common such deadline is 30 minutes before scheduled departure for domestic flights and one hour for international flights.
Allow more time than you think you will need to clear security.
Passengers who look like they are 18 or over should bring a government-issued photo ID.
Cabin luggage is generally limited to one carry-on bag plus one personal item (briefcase, purse, etc.).
Size and weight of allowable carry-on bags can vary by airline.  This information must be included in your confirmation/itinerary.
Don't bring sharp items on your person or in your carry-on bag.
TSA has a "3-1-1" rule for liquids, aerosols and gels in carry-on baggage.
Those substances must be in containers that are no more than 3.4 oz. in volume (100 ml), with all such containers in one clear quart-size plastic bag, and one such bag per passenger.
Try to find out the projected length of the delay so that you can evaluate your options.
Airlines are required to regularly update the public on the status of delays of 30 minutes or more.  But keep in mind that it is sometimes difficult for airlines to estimate the total duration of a delay during its early stages.  Weather that had been forecast to improve can instead deteriorate, or a mechanical problem can turn out to be more complex than initially evaluated.
If the problem is with local weather, all flights will probably be late and there is not much you or the airline can do to speed up your departure.
If there is a mechanical problem with the aircraft for your particular flight, or if the crew is delayed on an incoming flight, you might be better off trying to arrange another flight.
It is sometimes easier to make such arrangements by phone than at the airline counter. Check to see whether you have to pay a penalty or higher fare for changing your reservations.  Changing flights and airlines becomes more difficult and time consuming if you have checked bags.
If you find a flight on another airline, ask the first airline to "endorse" your ticket to the new carrier, which could save you a fare increase.  However, there is no rule requiring an airline to do this.
Each airline has its own policies about what it will do for delayed passengers waiting in the airport terminal.
There are no Federal requirements regarding these amenities or services.  If you are delayed, ask the airline staff if they will pay for meals or phone calls.  Some airlines may not offer amenities if bad weather or something else beyond the airline's control causes the delay.
If your flight is canceled, most airlines will rebook you on their next flight to your destination on which space is available, at no additional charge.
If this will involve a significant delay find out if another carrier has seats and ask the first airline to endorse your ticket to that carrier, but be aware that there are no Federal requirements for the airline to do so.  Finding extra seats may be difficult, however, especially over holidays and other peak travel times.
If your flight is canceled or diverted or experiences a lengthy delay and you choose to cancel your trip as a result, you are entitled to a refund for the unused transportation — even for non-refundable tickets — and for any bag fee that you paid.
If the airline offers travel vouchers to volunteers who are willing to give up their seat, every volunteer must be told about any material restrictions on the use of the vouchers before the prospective volunteer gives up his or her seat.
Such restrictions can include administrative fees, advance-ticketing requirements, capacity restrictions, blackout dates, or other provisions.
If you are involuntarily denied boarding in an oversale situation, the airline must give you a detailed written notice explaining your rights, and you are usually entitled to substantial compensation in the form of a check.
The airline is free to offer travel vouchers as an option to passengers who are involuntarily denied boarding, but material restrictions must be disclosed in the manner described above.
For further information, see the "Overbooking" chapter of Fly Rights.
---
During the flight
DOT rules state that at a U.S. airport, an airline may not keep passengers aboard an aircraft for more than three hours (four hours for international flights) without an opportunity to deplane.
This rule applies to departures and arrivals, and to U.S. and foreign airlines that operate at least one aircraft with 30 or more seats.
Food and water must be offered at the two-hour point during such a delay.
Airlines must provide operational lavatories, and medical care if needed.
Certain exceptions for safety, security and air traffic control may apply.
When you deplane from your first flight, check the monitor or schedule board at the connecting airport to make sure the gate assignment for your next flight hasn't changed.
Get to your gate before the gate-arrival deadline.  Even if you have a boarding pass and seat assignment, late arrival at your gate opens the possibility of losing your seat.
---
At your destination
Check your bag tag number or name tag.
Many bags look alike; don't claim your bag solely on appearance.
If your bag arrives open, unlocked or visibly damaged, check immediately to see if any of the contents are missing or damaged.
Report any problems to your airline before leaving the airport.
Insist that the airline create a report record and give you its number even if they say the bag will be in on the next flight.  Get the agent's name and an appropriate telephone number for following up. This number is different from the reservations number.
Open your suitcase immediately when you get to where you are staying and check for damaged items and evidence of pilferage.
Report any damage to contents or pilferage immediately by telephone.  Make a note of the date and time of the call, and the name and telephone number of the person you spoke with.  Follow up immediately with a certified letter or return-receipt email.
The airline will take a report as described above and will begin tracing the bag.  The vast majority of delayed bags turn up within a few days, often on the next flight.
You are entitled to reasonable reimbursement for expenses you incur while waiting for the delayed bag, such as the purchase of toiletries and a change of underwear.
At a certain point (as early as a week or two) the airline will declare a bag lost and will provide claim forms for you to fill out and return.
Airlines don't automatically pay the full amount of every claim they receive.  Like insurance companies, airlines consider the depreciated value of your possessions, not their original price or the replacement costs.
If you're tempted to exaggerate your claim, don't.  Airlines may completely deny claims they can show are inflated or fraudulent.
Generally, it takes an airline anywhere from four weeks to three months to pay passengers for their lost luggage.
When airlines tender a settlement, they may offer you the option of free tickets on future flights in a higher amount than the cash payment.  Ask about all restrictions on these tickets, such as "blackout" periods.
---
After your trip
Your first step is contacting the airline.
U.S. and foreign airlines are required to make available the mailing address and email or web address where complaints can be registered with the airline.  This information must appear on the airline's website, on all e-ticket confirmations, and, upon request, at each of the airline's ticket counters and boarding gates.  Airlines are required to substantively respond to written consumer complaints within 60 days.
---
Statistics on flight delays, consumer complaints and other matters at Air Travel Consumer Report
Most Viewed Reports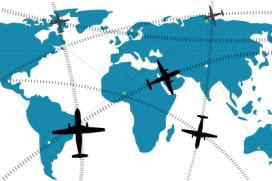 Last updated: Friday, October 18, 2019