TIFIA Rural Project Initiative (RPI)
The Rural Project Initiative is aimed at helping improve transportation infrastructure in America's rural communities.
Rural communities frequently find it challenging to identify the financial resources required to fund critical infrastructure projects, which are key to improving the economy and the quality of life of all Americans.  Without adequate roads, bridges, tunnels, freight and transit systems, rural communities often lack efficient transportation access to medical care, get to school and work, or even the grocery store.  And, clearly there is a need to improve our rural roads - according to the Federal Highway Administration, roughly 40 percent of county roads are inadequate for current travel [1], and 38,000 rural bridges longer than 20 feet are structurally deficient [2].
The Department of Transportation's Build America Bureau provides loans in support of a variety of transportation projects across the Nation.  However, they have primarily been utilized for larger projects which are typically in more urbanized, metropolitan areas. Now we are making the Transportation Infrastructure Finance and Innovation Act (TIFIA) financing more accessible to small communities through the Rural Project Initiative.  This new initiative places an emphasis on rural America's transportation needs and offers some significant benefits and savings to rural sponsors.
Under this initiative, if you are in a qualified rural area and have an eligible surface transportation project between $10 million and $100 million in cost, we can offer some significant savings over traditional TIFIA loans and other commercial financing products, including:
Loans for up to 49 percent of the project's eligible costs (compared to 33 percent under traditional TIFIA).
 
Fixed interest rates equal to one half of the U.S. Treasury rate of equivalent maturity of the loan at the time of closing (traditional TIFIA loans have interest rates equal to the U.S. Treasury rate at the time of closing). 
In addition, if your eligible project is under $75 million in cost, we can waive all the borrower fees, which often amount to hundreds of thousands of dollars (available funding for this benefit is limited and we can only do this while they last).
Eligible projects include:
Roads, bridges and tunnels,
Transit systems including infrastructure, bus and train stations, and buses and passenger rail vehicles and facilities
Intermodal connectors,
Pedestrian and bicycle infrastructure,
Freight transfer facilities,
Sea and inland waterway ports, and even,
Airports - under certain circumstances.
It is important to note that Federal funding or financing triggers certain requirements that can add to the time required and increase project costs over non-Federally funded projects.  The Build America Bureau staff can help sponsors understand and navigate these requirements.
Frequently Asked Questions About the Rural Project Initiative
How is a Rural area defined?
For the purposes of this initiative, a rural project is one that is located outside of an urbanized area with a population greater than 150,000 individuals as determined by the Bureau of Census.
What are some of the regulatory and programmatic requirements involved in the Rural Projects Initiative?
National Environmental Policy Act, otherwise known as NEPA
Buy America
Davis Bacon Act, which establishes prevailing wage rates for all federally funded or assisted projects
Title VI (Civil Rights Act)
Project requires an investment grade rating from a nationally recognized statistical rating agency ( e.g., Fitch, Moody's, S&P, etc.)
Who is eligible to utilize the RPI?
State and local governments
Transit agencies
Private entities
Special Authorities such as government sponsored corporations
Transportation improvement districts
State Infrastructure Banks
Why will DOT only finance 49 percent of eligible project cost?
The maximum amount the program can loan to a project is limited by statute to 49 percent of the eligible project costs.
What can I do if the project is not in a rural area?
TIFIA loans are available to finance projects outside rural areas, however, a non-rural project would not be eligible for the benefits of the RPI.  TIFIA nonetheless may still be a very attractive financing option.
Can we use Federal money to cover the other 51 percent of project costs?
TIFIA financing is often used in conjunction with other Federal grant and other funding programs. The maximum allowable Federal share (funding and financing) of project costs is 80 percent.
---
[1] Data provided by the FHWA Office of Planning, Environment and Realty (HEP)
[2] Data provided by the FHWA Office of Bridges and Structures.
TIFIA Rural Projects Initiative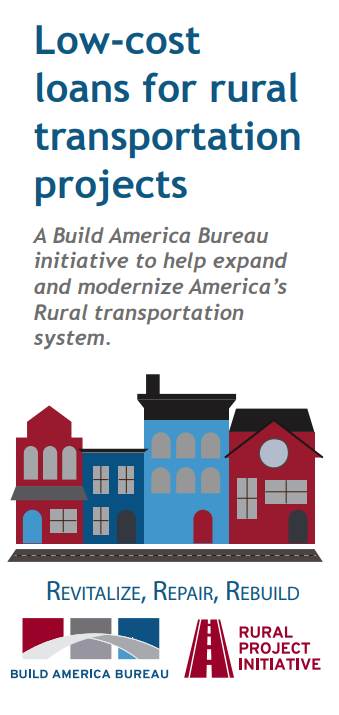 Last updated: Thursday, October 20, 2022