Thriving Communities Program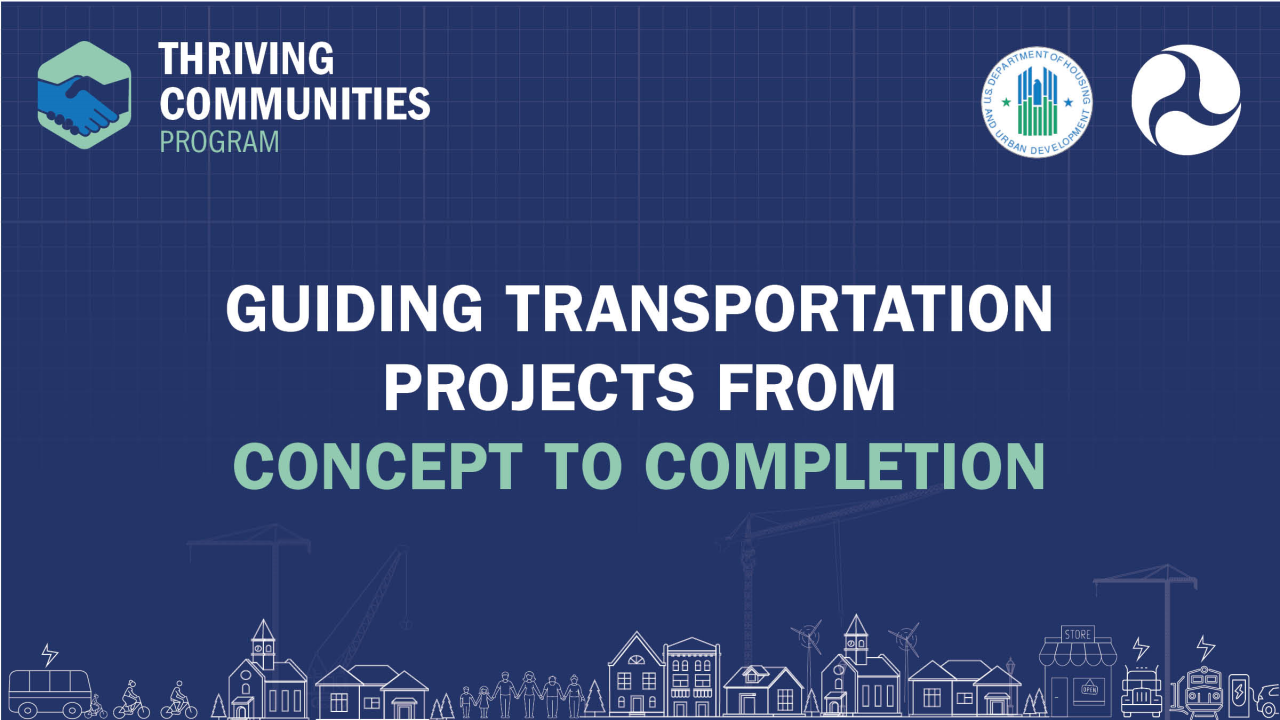 FY 2023 Thriving Communities Program is Now Open!
DOT is now accepting applications for its fiscal year (FY) 2023 Thriving Communities Program (TCP). TCP offers two separate response opportunities for potential applicants: a Letter of Interest and a Notice of Funding Opportunity (NOFO). Under the $22 million NOFO, DOT is accepting applications for both the Thriving Communities National Capacity Builder Program and a new Regional Pilot Program.
TCP provides technical assistance, planning, and capacity building support to teams of community partners that may lack the staffing or technical expertise to scope, fund, and develop infrastructure projects that advance broader community goals. TCP will provide 2 years of deep-dive assistance and 3 years of facilitated peer learning support to selected communities to help them plan and develop a pipeline of comprehensive transportation, housing, and community revitalization activities. There is no cost to receive this support. Interested applicants must identify community partners and together submit a Letter of Interest (LOI) via DOT webform by 4:59 p.m. (ET) November 15, 2023, to be considered for selection. 
An overview webinar that will introduce potential applicants to opportunities to apply to participate in the FY 2023 Thriving Communities Program will be held on September 15, 2023 from 12:30 – 1:30 pm ET. The webinar will provide a general program overview, then provide details about the opportunities for National and Regional Capacity Builders as well as the opportunity for communities seeking technical assistance support. The webinar will also provide details about program requirements and how to apply.  Register here to attend the webinar.
First Thriving Communities Program Grants, Capacity Builders and Communities Announced 
On April 7, 2023, U.S. Transportation Secretary Pete Buttigieg announced $21.15 million in cooperative agreements with four Capacity Builders through the first round of funding for the Thriving Communities Program. The awarded Capacity Builders will support a total of 64 communities in 42 states, including 6 Tribal Nations, and Puerto Rico.
This planning, technical assistance, and capacity building support will enable disadvantaged and under-resourced communities to advance a pipeline of transformative infrastructure projects that will increase mobility, reduce pollution, and expand affordable transportation options, connecting communities to the essential opportunities and resources that will help them thrive.
Learn more about the selected Capacity Builders and communities and the FY 2022 runners up. 
Build America Bureau Provides Technical Assistance through Thriving Communities Program
The Thriving Communities Program (TCP) provides technical assistance, planning and capacity building support for rural, Tribal and other disadvantaged communities adversely or disproportionately affected by environmental, climate, and human health policy outcomes. TCP helps to build organizational capacity to compete for federal aid and deliver quality infrastructure projects that enable communities and neighborhoods to thrive.
TCP facilitates the planning and development of transportation and community revitalization activities and provides tools to ensure that under-resourced communities can access the historic funding provided in the Bipartisan Infrastructure Law (BIL). The Bureau will administer the TCP as part of broader technical assistance to project sponsors. 
The TCP is one of several tools being provided by DOT to ensure every community has the opportunity to access federal transportation funding and financing to deliver transformative infrastructure projects. Additional technical assistance resources can be found on the DOT Navigator at www.transportation.gov/dot-navigator.
Thriving Communities is key component of USDOT's Equity Action Plan. The Bureau will help deliver the technical assistance to communities through the TCP. 
Archive news release:  Biden-Harris Administration Launched  New Program to Help Communities with Infrastructure Projects
Last updated: Tuesday, September 12, 2023