EV Planning Resources: Vehicle Comparisons
This section compiles resources and tools for EV infrastructure planning and implementation. Resources are organized by subject area and are labeled with resource type—namely, calculators and software, datasets and maps, and additional guidance and reference.
EVolution: E-Drive Vehicle Education
Argonne National Laboratory – Calculator/Software
Web app that allows users to compare the expected fuel usage and costs of specific EVs and conventional gasoline vehicles based on zip code. Generates location-based estimates of gas and electricity prices, daily mileage and travel time, and other travel factors which users can further customize and provides nearby options for public charging. Reports and compares the fuel efficiency, fuel costs, costs of ownership, and GHG emissions of the selected vehicles based on the vehicle operating assumptions.
Access Argonne National Laboratory's EVolution: E-Drive Vehicle Education tool.
EV Explorer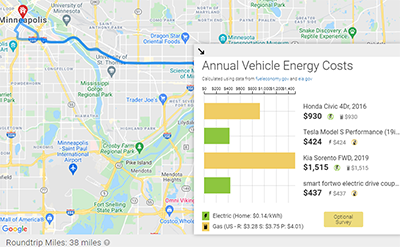 University of California, Davis – Calculator/Software
Online map and calculator that lets users compare annual energy costs for up to four vehicles, including gasoline and electric vehicles. Users input a single origin and destination and can change commute frequency, update fuel costs, and specify access to EV chargers.
Access UC Davis's EV Explorer.
FuelEconomy.gov Trip Calculator
EPA and DOE – Calculator/Software
Includes a tool to find and compare cars as well as a trip calculator. Users can compare fuel costs, GHG emissions, and efficiency across EV and conventional vehicle models, and use the trip calculator to estimate fuel costs for individual trips between an origin and destination.
Also in This Section

Resources for EV Infrastructure Planning
Next Section

Environmental Statutes and Executive Orders
Last updated: Wednesday, May 3, 2023