Rural EV Infrastructure Funding Table
Description:
About the Funding Table
The above matrix is a list of Federal programs that can fund rural electric vehicle infrastructure, sorted alphabetically by agency. The matrix notes the type of EV activities that are eligible for funding under different programs, as well as the eligible entities.
The matrix will be expanded in future updates of this toolkit to reflect new programs in the 2021 Bipartisan Infrastructure Law.
Using This Dataset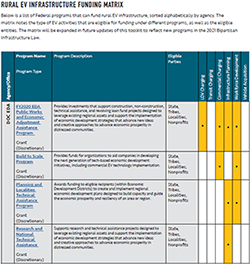 Users can scroll through the embedded dataset above to view applicable programs. For added sorting capabilities and a larger preview window, users can download a Microsoft Excel version of the dataset or simply select "View full-size workbook" in the bottom-right corner of the embedded table above to view the dataset using Excel online (no software needed). 
In addition, users can view a PDF version of the funding table.
Also in This Section

EV Infrastructure Funding and Financing for Rural Areas
Next Section

Resources for EV Infrastructure Planning