U.S. 36 Managed Lane / Bus Rapid Transit Project: Phase 1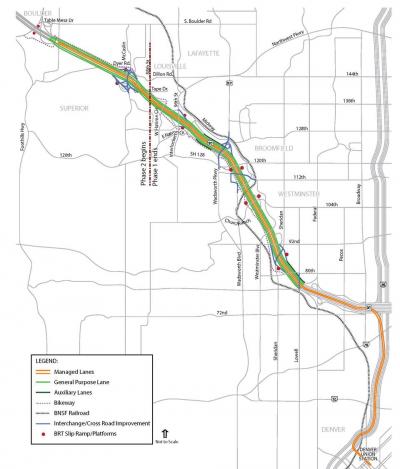 Alternate Project Name
US 36 Managed Lane / Bus Rapid Transit Project: Phase 1
Status
Credit Agreement Executed
Sponsor/Borrower
Colorado High Performance Transportation Enterprise (HPTE)
Project Description
U.S. 36 is a four-lane divided highway that connects the City of Boulder to Denver at its intersection with I-25. The highway currently experiences significant congestion and has been targeted for improvements by the Colorado Department of Transportation (CDOT) since the late 1990s. The U.S. 36 Managed Lane Project Phase I is an initial 10-mile phase of improvements along 16 miles of roadway between the two cities.
The project will include one express, high occupancy toll (HOT) lane in each direction from Federal Boulevard to 88th Street in Louisville/Superior (approximately 10 miles) and reconstruction of the general purpose lanes.  Additionally, it includes the replacement of the Wadsworth Parkway, Wadsworth Boulevard, Lowell Boulevard, and Sheridan Boulevard bridges, and replacement of the US 36 bridge over the BNSF Railway.  Additionally, there are improvements to Regional Transportation District (RTD) stations along the corridor.
The US 36 Managed Lane and Bus Rapid Transit Project will ameliorate significant safety hazards that existed before the project's inception, such as:  structurally deficient bridges, harsh grading, and insufficient stopping sight distances. Upon completion, these improvements are expected to significantly reduce accident rates. The project will implement an intelligent transportation system for electronic tolling and electronic display of transit information. Together, improved conditions and upgraded technology will generate significant time savings with each transit rider, carpooler, and toll-paying driver expected to save up to 25 minutes in travel time savings between Denver and Boulder. The project created approximately 4,400 jobs. TIFIA financing allowed for the realization of the stated benefits at least 20 years earlier and at a cost savings of approximately $200 million when compared to conventional financing methods.