US-183S Bergstrom Expressway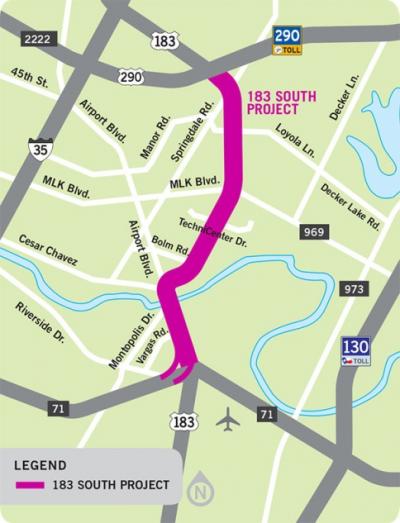 Alternate Project Name
US 183 South
Status
Credit Agreement Executed
Sponsor/Borrower
Central Texas Regional Mobility Authority (CTRMA)
Project Description
The US-183S Bergstrom Expressway Project is an 8-mile toll facility located in the City of Austin, TX, in the US-183S corridor. The Project consists of six tolled main lanes and six non-tolled frontage lanes. Approximately seven miles of the overall eight miles will be tolled.
The purpose of the Project is to improve the network around Austin and to effectively and expeditiously address increased transportation demands resulting from rapid development in the region.  Once completed, the Project will be a vital north-south thruway that parallels both I-35 and SH-130, and serve as an alternative route to the heavily congested I-35 expressway through Downtown Austin, which will relieve traffic congestion throughout the region.  US-183 not only links commuters from several cities into downtown Austin, but it is also one of three highways that provide access to the Austin-Bergstrom International Airport, which serves approximately 10 million passengers annually.  In its current configuration, with numerous at-grade intersections, US-183 is limited in its mobility and operational benefits that could be maximized by a more complete roadway network.
In addition to the road improvements, the Project also includes: two tolled direct connect flyovers that will link eastbound SH 71 to northbound US 183 and southbound US 183 to westbound SH 71; a new 5-foot bike lane on each side of the project, a 10-foot shared use path, and a 6-foot to 10-foot sidewalk.  Approximately $25 million of the total project costs is allocated for the construction of new non-tolled improvements that benefit pedestrians and cyclists.
As Austin continues to grow, the demand for its travel infrastructure grows. Over the next 25 years, Austin is expected to reach a population of 3.2 million residents with the demand for the southern portion of the US 183 corridor expected to increase by 102 percent over the same time period. The Bergstrom Expressway project is designed to mitigate the congestion inherent in such rapid and targeted growth and is part of the City of Austin's Desired Development Zone.  The project will add lanes to the existing roadway, implement an open road tolling system, and improve access points to reduce travel times and idling. According to the project sponsor, together, these improvements are expected to reduce annual emissions 83 percent by 2050, increase employment in the area by 94 percent by 2040, and generate property value and sales tax receipt increases of approximately 50 percent after completion.