Tren Urbano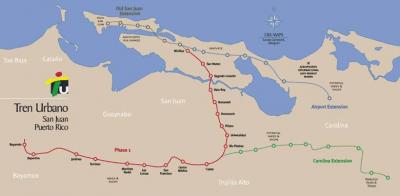 Status
Credit Agreement Executed
Sponsor/Borrower
Puerto Rico Highway and Transportation Authority (PRHTA)
Project Description
The Tren Urbano is a single-line, 10.7-mile fixed-guideway rapid transit system that serves the municipalities of San Juan, Bayamón, and Guaynabo in Puerto Rico.
Tren Urbano includes 16 stations, a vehicle maintenance and storage facility, 74 rail cars, operations control center, traction power, train control, and communications systems. Most of the system is elevated with a 1.1-mile tunnel section in the Rio Piedras district.
The project was implemented to provide a solution to the continually rising vehicle traffic levels and to bring a new mode of transportation to the most congested sections of the San Juan metropolitan area.