State Highway (SH) 288 Toll Lanes Project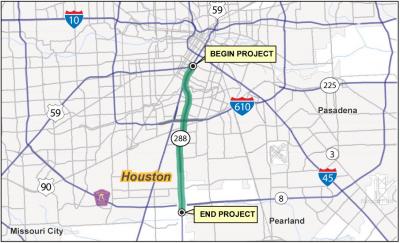 Alternate Project Name
SH 288 Toll Lanes Project
Status
Credit Agreement Executed
Project Description
SH 288 is a 60-mile highway running from the US 59 and IH 45 interchange in downtown Houston to the City of Freeport on the Gulf Coast in Texas.  It is a critical north-south transportation corridor for the Houston metro region and beyond. The corridor extends through Harris County and Brazoria County and intersects three major existing ring roads (IH 610, Sam Houston Tollway (Beltway 8) and SH 6).  Within the metropolitan area, SH 288 links the major employment center of downtown Houston and the Texas Medical Center with the rapidly growing residential communities of Harris County and Brazoria County.
The Project, which is being procured by the Texas Department of Transportation (TxDOT) as a public private partnership (P3) is located within Harris County, Texas and involves the development, design, construction, financing, operation, and maintenance of four new toll lanes that stretch 10.3 miles along the median of SH 288, as well as the maintenance of the existing general purpose lanes along the SH 288 corridor.  The Project also includes the reconstruction of 75% of the IH 610 interchange, the addition of direct connectors at Beltway 8 and 1.3-mile direct connectors to the Texas Medical Center (TMC Connector).  The Project is part of a larger SH 288 Project that includes an extension into Brazoria County, which is segmented as follows:
The Brazoria Project (North) will be separately procured, financed, and constructed by Brazoria County, and it includes four toll lanes extending from the Harris/Brazoria County line south to County Road 58 for approximately 5.0 miles. This project includes new underpasses at County Roads 56, 57, 63, and 64, as well as overpasses at County Road 48 and Rodeo Palms Parkway.

The Brazoria Project (South) begins at County Road 58 and extends south to County Road 60/future SH 99 for approximately 10 miles.