Regional Connector Transit Corridor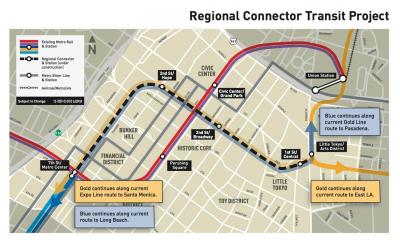 Status
Credit Agreement Executed
Sponsor/Borrower
Los Angeles County Metropolitan Transportation Authority (LACMTA or Metro)
Project Description
The Regional Connector Transit Corridor Project (Regional Connector) is a 1.9-mile underground light rail connection between the Little Tokyo/Arts District Station to the 7th Street/Metro Center Station in downtown Los Angeles. The existing Metro Gold Line will traverse this new section from the Little Tokyo/Art District and continue along the existing and future Metro Expo Line to Santa Monica, CA. Similarly, the Metro Blue Line will continue beyond its current terminus at 7th Street/Metro Center along this new section and beyond to the existing and future Metro Gold Line to Pasadena.
The Regional Connector extends from the Metro Gold Line and will allow passengers to transfer among the Metro Blue, Expo, Red, and Purple Lines, bypassing Union Station; it will provide one-seat continuous service across Los Angeles County. By linking these lines in downtown Los Angeles, the project creates a north/south line from Claremont to Long Beach, and an east/west line from East Los Angeles to Santa Monica. The project also includes the construction of three new stations: 1st Street and Central Ave, 2nd Street and Broadway, and 2nd Place and Hope Street.
Through the Regional Connector, the Metro Rail system will better serve two of the region's most robust markets. According to LACMTA, the construction of the project is expected to generate 15,400 jobs and approximately $2.38 billion in direct, indirect, and induced business revenues. Upon completion, the project will provide further economic benefit in creating new direct rail access in districts with high job densities and growing populations. The project will also create substantial environmental and mobility benefits by diverting an estimated 17,400 daily riders from the roadways by 2035. The traffic reduction of such a shift is estimated to eliminate roughly 69,050 metric tons of carbon dioxide emissions annually and reduce average travel time by approximately 13 minutes per daily trip. Through the TIFIA financing, this project was able to achieve the stated benefits at a savings of $12 million when compared to more conventional financing methods.