Northwest Corridor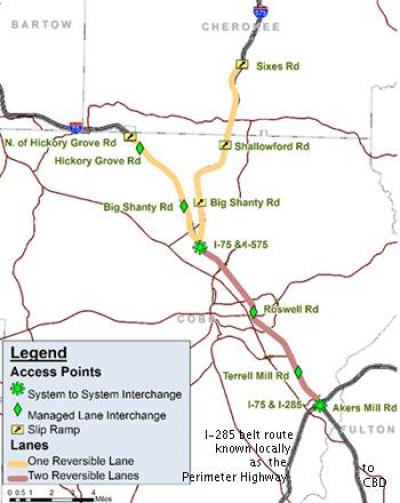 Status
Credit Agreement Executed
Sponsor/Borrower
State Road and Tollway Authority (SRTA); Georgia Department of Transportation (GDOT)
Project Description
The Northwest Corridor project, formerly known as the West by Northwest Corridor project, extends along 29.7 miles of I-75 and I-575.  The project includes: the extension of managed lanes from the current end of the high occupancy vehicle (HOV) lanes along I-75 at Akers Mill Road south of I-285; two reversible tolled managed lanes to the west of the existing general purpose lanes along I-75 between I-285 north and I-575; and one reversible tolled managed lane in the median along I-75 between I-575 and Hickory Grove Road and along I-575 to Sixes Road.
The project is a collaborative effort between GDOT and SRTA. GDOT is overseeing the design and construction of the facility and will be responsible for the long-term operation and maintenance of the highway. SRTA, the TIFIA borrower, will be responsible for the tolling operations, tolling gantries and equipment, and communicating with customers about tolls as well as issuing the toll revenue bonds. The managed lanes will be constructed under a DBF agreement between a private developer and SRTA. In July 2013, the Northwest Express Roadbuilders - a joint venture between Archer Western Contractors, Hubbard Construction Company, and Parsons Corporation - was selected through a competitive procurement process to be the developer. The developer is required to finance a minimum of 10 percent of the design-build contract amount.
By incorporating lifecycle cost reduction into the project's design and construction, a higher quality transportation project will be delivered approximately 3 years faster and at a cost savings of approximately $131 million compared to conventional financing structures.  As a new toll facility with revenue uncertainties, the TIFIA loan was critical to helping fund the project that would have likely been delayed or deferred.  According to the project sponsor, the managed lanes will provide reliable travel times through the use of dynamic, congestion-based tolling to reduce congestion and save an average of 59.2 minutes per trip, resulting in an estimated annual travel time savings of $202 million. More efficient travel will also contribute to auto emission and fuel consumption goals with estimated reductions of approximately 23.8 tons and 2.87 billion gallons, respectively. The project is expected to generate approximately 9,500 jobs and $1 billion in total economic impact.