North Tarrant Express Segments 1 and 2A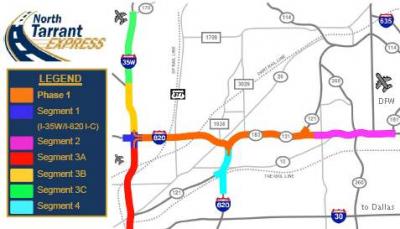 Alternate Project Name
NTE
Status
Credit Agreement Executed
Sponsor/Borrower
Texas Department of Transportation (TxDOT) ; NTE Mobility Partners, LLC (the Concession Company and TIFIA borrower)
Project Description
The first Concession CDA includes the design, development, construction, finance, maintenance, and operation of 13 miles along Interstate (IH) 820 (Segment 1) and State Highway (SH) 121/SH 183 from IH 35W to SH 121, from north of Fort Worth to just southwest of Dallas-Fort Worth International Airport (Segment 2A). The duration of the concession is 52 years.  The existing highway includes two general purpose lanes in each direction. Proposed improvements include three general purpose lanes in each direction with two managed lanes in each direction for a total of 10 lanes with frontage roads for future traffic volumes.
The second CDA for Segments 2-4 includes developing master plans for the remainder of the corridors along SH 183 from SH 121 to SH 161 (Segment 2E), IH 820 east from SH 121/SH 183 south to Randol Mill Road (Segment 4), and along IH 35W from IH 30 to SH 170 in Tarrant and Dallas counties (Segments 3A, 3B, and 3C), as well as other facilities for connectivity, safety, and financing.
As a result of the master planning activities, TxDOT and the concessionaire entered into a Facility Agreement to construct Segment 3A and operate and maintain this segment as well as Segment 3B, which is being constructed by TxDOT. When all phases are completed, the Project will comprise 36 miles of managed lanes.
Segments 1 and 2 of the North Tarrant Expressway project will add general purpose lanes, managed lanes and frontage roads to increase capacity and reduce congestion. Further, the managed lanes leverage an electronic toll collection system to prevent bottlenecking at collection points, reducing potential collisions from sudden stoppages. Based on information from the Project Sponsor, the use of TIFIA financing allowed for the realization of these benefits 6 years sooner and at a cost approximately $510 million lower than conventional financing methods would have allowed.