New NY (Tappan Zee) Bridge Replacement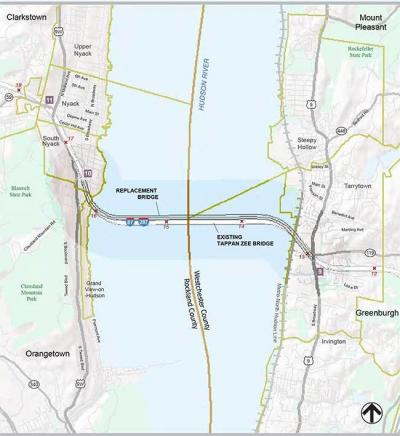 Alternate Project Name
Tappan Zee Bridge, New New York
Sponsor/Borrower
New York State Thruway Authority (NYSTA)
Project Description
The project is the replacement of the nearly 60-year-old Tappan Zee Bridge, called the "New New York Bridge," carrying I-87/287 over the Hudson River between Westchester and Rockland Counties, approximately 20 miles north of New York City.
The New New York Bridge is being built alongside the existing bridge, and bi-directional traffic will be rerouted to the new westbound bridge span, while the new eastbound span is being completed. The demolition of the existing bridge and construction of the new eastbound span will happen concurrently at the end of the project.
The new tolled bridge is a dual-span twin bridge with eight lanes, four emergency lanes, a dedicated commuter bus lane, and a bicycle/pedestrian path. The bridge is being designed to accommodate future transit plans, which include bus rapid transit, light rail, or commuter rail.
The TIFIA loan will reduce the project's interest cost and thereby relieve pressure on the debt capacity of the System as a whole.  The difference in interest cost between the TIFIA Loan and the alternate short-term debt the Thruway Authority incurred for this project is approximately $10 million in savings per year for over 35 years.  According to the Project, the project is expected to address structural deficiencies, safety concerns, and allow for future economic growth in the region.  For example, the project estimates annual travel time savings at $350,000. The Thruway Authority is passing these savings on to the traveling public by keeping future bridge tolls lower than without the TIFIA loan.
In November 2019, the project sponsors repaid their TIFIA loan in full.