Moynihan Train Hall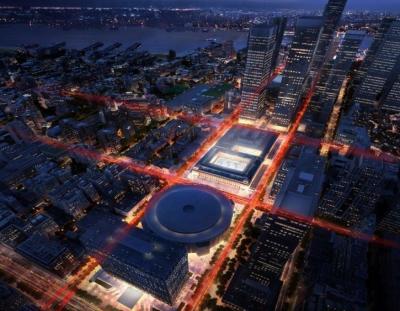 Status
Credit Agreement Executed
Sponsor/Borrower
Empire State Development Corporation (ESD)
Project Description
The Moynihan Train Hall Project aims to transform the James A. Farley Post Office Building into a modern, state of the art transportation facility.  It is expected to relieve congestion at Penn Station which is the busiest passenger transportation facility in the US with estimated volume of 650,000+ passengers per weekday.
The Project is being undertaken in two phases:
West End Concourse Improvement includes the construction of a) an expanded passenger concourse beneath the Farley Building including new vertical access points serving platform numbers three to eleven, b) an underground connection to the Eighth Avenue subway line, c) an underground connection to the existing Penn Station, and d) plazas at street level.  This phase of work is substantially complete and opened to the public on June 15, 2017.
Moynihan Train Hall includes a) creation of a new sky-lit train hall on the concourse level of the Farley Building, b) back of house support space for Amtrak and Long Island Rail Road (LIRR), the two "anchor" rail tenants, including ticketing, baggage areas and waiting areas, c) loading access for the rail tenants and for the United States Postal Service (USPS) who will continue to occupy space in the Farley Building, d) exterior restoration, and e) systems and infrastructure improvements.