I-95 HOV / Hot Lanes Configure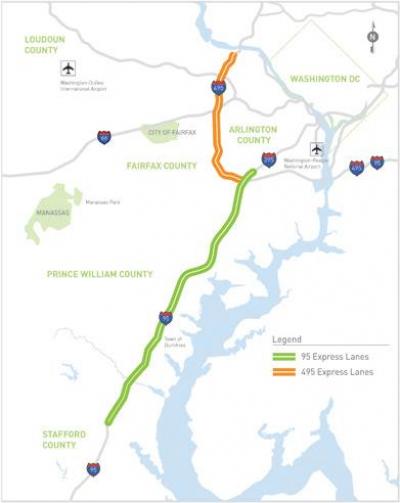 Status
Credit Agreement Executed
Sponsor/Borrower
Virginia Department of Transportation (VDOT); 95 Express Lanes LLC (the Concession Company and TIFIA borrower)
Project Description
The I-95 Express Lanes will be the second major step in creating a regional network of tolled managed lanes in Northern Virginia. The project consists of the development, design, finance, construction, maintenance and operation of 29.4 miles of High Occupancy Vehicle (HOV)/High Occupancy Toll (HOT) Lanes along I-95 and I-395 corridor in Northern Virginia, from Garrisonville Road in Stafford County to Edsall Road in Fairfax County over a 76-year concession period. The project is divided into four segments:
8.3 miles of new construction - two-lane reversible (includes 7 new brides)

7.0 miles of two-lane HOV conversion - two-lane reversible

11.9 miles of two-lane HOV conversion - three-lane reversible

2.2 miles of two-lane HOV conversion - three-lane reversible (including connection to 495 Express Lanes at the Springfield Interchange)
The development of the project supported approximately 7,500 full-time equivalent jobs annually through the three-year construction period. Now fully operational, the new managed lanes provide congestion relief and connectivity to users travelling to and from Tysons Corner and Washington, D.C., the major employment centers in the area, and five major military sites, including Fort Belvoir, Quantico Marine Corps Base, and the Pentagon, while providing a reliable pathway for transit vehicles and carpools to travel throughout the region. The reduced congestion and idling is estimated to reduce carbon dioxide emissions approximately 20 percent. Several other environmental benefits were achieved, as well, including decreased energy and water consumption.