Grand Parkway Segments D–G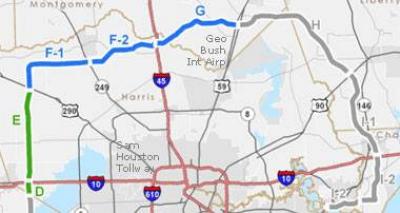 Alternate Project Name
SH-99
Status
Credit Agreement Executed
Sponsor/Borrower
Texas Department of Transportation (TxDOT)
Project Description
When completed, Grand Parkway Project will be a four-lane, 53-mile toll road in Harris County and Montgomery County, Texas. The TIFIA loan will go toward the design and construction of specific sections of the project. Grand Parkway is part of the planned 180-mile circumferential Grand Parkway toll highway around the Greater Houston Metropolitan Region. The project includes five segments (a portion of segment D and segments E, F-1, F-2, and G in full), which are situated along the northwest portion of the Parkway from just south of I-10 to I-69/US 59N (Eastex Freeway).
The Grand Parkway is divided into 11 segments in all (A through I-2), to be constructed at different times as deemed necessary. Segment I-2 has been constructed and is open. The remaining five segments are in planning and environmental stages. Segments F-1, F-2, and G include more than 50 bridges, frontage roads, utilities, and associated drainage. The Parkway will feature all-electronic tolling, with toll booths placed intermittently along the completed segments.
Segment D opened to traffic in December 2013
Segment E opened to traffic in December 2013
Segments F1, F2, and G are part of Phase 2
Segment G will open to traffic in 2016
According to the project's environmental impact statement, the projected transportation improvements will connect suburban communities and major roadways and address transportation demand, which currently exceeds capacity, combining to result in an estimated average travel time savings of approximately 25 minutes per trip (totaling 10,300 hours a day). Assuming a value of time of $13 per hour, residents will derive approximately $133,900 a day in value from time saved. These mobility benefits are expected to generate approximately 17,700 jobs and $7.89 billion in total economic impact. The project will also reduce congestion, preventing accidents and curtailing auto emissions. The utilization of TIFIA financing allows for the realization of these benefits 23 years sooner and with approximately $1 billion in interest savings over the life of the loan compared to conventional financing methods.