Federal Way Link Extension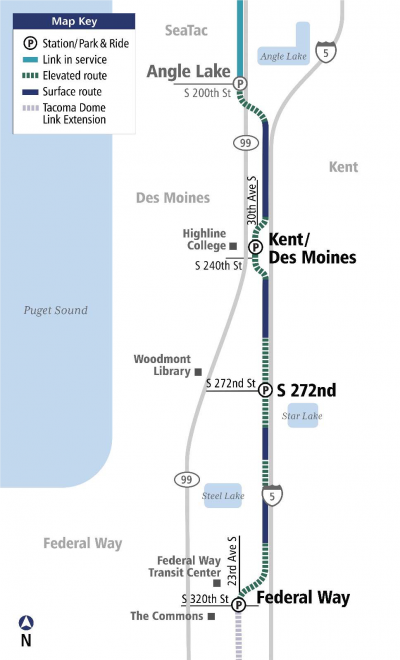 Status
Credit Agreement Executed
Sponsor/Borrower
Central Puget Sound Regional Transit Authority
Project Description
The Project consists of the construction a 7.8-mile extension of Sound Transit's light rail network from the Angle Lake Station to the Federal Way Transit Center in south King County. The Project will operate as the southernmost segment of the Sound Transit's north-south light rail line and offer connections to numerous local and regional bus lines, including some of the region's bus rapid transit lines. It will serve population, employment and education centers and provide opportunities for transit-orientated development.
Operating in an exclusive right-of-way, the Project generally parallels Interstate 5 on an elevated or at grade alignment.
The Project will include construction of three new stations, and 1,200 new parking spaces. The Project also includes the purchase of 20 new light rail vehicles ("LRVs"), as part of a planned 122 LRV purchase program by the Applicant, as well as train control and signals, communications, traction power supply and distribution, and fare collection systems and equipment.