East Link Extension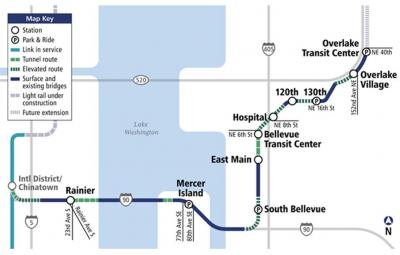 Alternate Project Name
Sound Transit East Link
Status
Credit Agreement Executed
Sponsor/Borrower
Central Puget Sound Regional Transit Authority (Sound Transit)
Project Description
The East Link Extension is a 14.5-mile Light Rail Transit (LRT) line that will provide east-west connections from the Eastside's largest population and employment centers to downtown Seattle, doubling the capacity of the I-90 Floating Bridge. On the east shore of Lake Washington, the new line will extend from Redmond to South Bellevue, where it will join the alignment of I-90 and continue to Mercer Island and downtown Seattle via the I-90 floating bridge. The new LRT line will terminate at the International District/Chinatown station, where onward connections are available to the Central Link Light Rail line running between downtown and Sea-Tac International Airport.
The project also includes the I-90 Two-Way Transit project, which will provide eight miles of High Occupancy Vehicle (HOV) lanes across both sides of the I-90 Floating Bridge. This aspect of the project improves transit and HOV reliability using existing right-of-way, without widening the I-90 floating bridge. The project also will replace the fire/life/safety systems located in the Mt. Baker tunnels connecting to the I-90 Floating Bridge, as well as seismic retrofits that will improve the earthquake resistance of the floating bridge.
According to Sound Transit, the TIFIA credit assistance is estimated to generate up to $300 million in additional financial capacity while reducing the risk of scope reduction and service delays. The East Link's extended reach will connect over 200,000 existing jobs in downtown Seattle, Bellevue, and Redmond, and it is expected to create an additional 49,000 new jobs.  The bridge's increased capacity is projected to eliminate 10,000 vehicle hours, eliminate 230,000 vehicle miles traveled per day, reduce average travel time by 25 minutes per trip, and reduce greenhouse gases by 22,000-29,000 metric tons.  The expected travel time savings are expected to save $65 million annually.