Eagle Project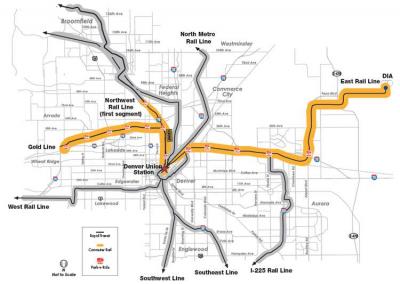 Alternate Project Name
Eagle P3
Status
Credit Agreement Executed
Sponsor/Borrower
Regional Transportation District (RTD)
Project Description
The Eagle Project is part of RTD's FasTracks initiative, a voter-approved program to expand rail and bus transit throughout the Denver metropolitan region. FasTracks includes 122 miles of commuter rail and light rail, 18 miles of bus rapid transit service, the redevelopment of Denver Union Station (DUS), 21,000 new parking spaces, and other improvements. The Eagle Project elements funded by the TIFIA loan include the following:
East Corridor - 22.8-mile commuter rail line from DUS to Denver International Airport with five stations
Gold Line - 11.2-mile commuter rail line, the first 3.7 miles of which are shared with the Northwest Line (segment 1) from DUS north and west to Wheat Ridge, with six intermediate stations
CRMF - sited adjacent to the Gold and Northwest Lines it includes a central control center, a maintenance shop, and a rail storage yard, among other facilities
The Eagle Project is being procured through a concession agreement between RTD and Denver Transit Partners to design, build, finance, operate, and maintain the project's components for 34 years. RTD will retain ownership of all assets at all times, set fares and fare policies, and keep all project revenues. RTD will make availability payments to the concessionaire based on established performance metrics.
As of September 2015, the Eagle P3 project has employed 6,900 individuals and contributed more than $1.319 billion in total economic impact. Additionally, the project nearly cuts in half the time it takes for commuters to travel from downtown Denver to Denver International Airport, according to a 2011 statement from former US DOT Secretary Ray LaHood. The use of TIFIA financing and concessionaire structuring allowed for project delivery approximately 2 years earlier than other methods would have allowed.