Downtown / Midtown Tunnel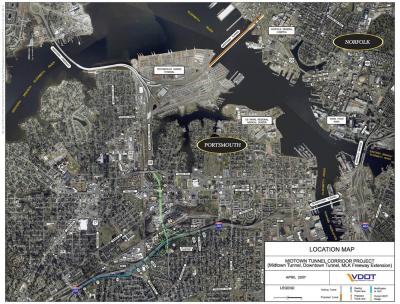 Alternate Project Name
MLK Extension
Status
Credit Agreement Executed
Sponsor/Borrower
Virginia Department of Transportation (VDOT), Elizabeth River Crossings Opco, LLC (ERC)
Project Description
The Downtown Tunnel / Midtown Tunnel / MLK Extension consist of five components of construction, involving three facilities in the Hampton Roads region of Virginia. The Midtown Tunnel portion consists of a new two-lane tolled tunnel under the Elizabeth River parallel to the existing Midtown Tunnel connecting the Cities of Norfolk and Portsmouth as well as modifications to the existing tunnel to provide increased capacity for east-west travel linking Route 58 and I-264 in Portsmouth to the interchange at Brambleton Avenue/Hampton Boulevard in Norfolk. Modifications to the interchange are also planned. The MLK Extension portion of the project consists of extending U.S. Route 58 south from London Boulevard, approximately 0.8 mile to I-264 with an interchange at High Street.
The $2.1 billion project will be built on a design, build, finance, operate, and maintain (DBFOM) concession basis by ERC comprised of Skanska Infrastructure Development and Macquarie Group.
According to the project sponsor, the local population and the existing Midtown Tunnel usage have increased nearly 70 percent and 600 percent, respectively, since the Midtown Tunnel was initially introduced. Such rapid growth has left the area without adequate transportation options. The Downtown / Midtown Tunnel project will accommodate this need with the improvement of the existing Midtown Tunnel, extension of the existing MLK Freeway, and the addition of the Downtown Tunnel. Once completed, the project is expected to generate an average travel time savings of approximately 15 minutes per trip, savings valued at approximately $3.2 billion annually. It is also expected to generate 15,000 direct and indirect induced jobs and a total economic impact of approximately $254 million. The project will also add substantial safety improvements to eliminate 86 crashes per 100 million miles traveled and bring the facilities into compliance with current fire and life safety standards.