Denver Union Station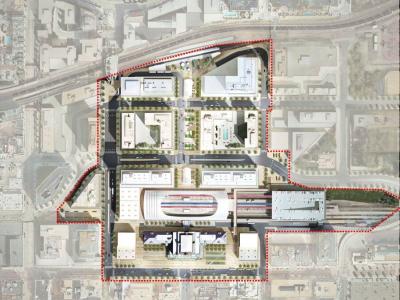 Status
Credit Agreement Executed
Sponsor/Borrower
Denver Union Station Project Authority (DUSPA)
Project Description
The project is a public-private partnership (P3) development venture located on approximately 50 acres in lower downtown Denver, Colorado, which includes the historic Denver Union Station building (excluding renovation of the building itself), rail lines, vacant parcels, street rights-of-way, and offsite trackage rights. The project comprises the redevelopment of the site as an intermodal transit district surrounded by transit-oriented development, including a mix of residential, retail, and office space. The transit district will serve as a regional multimodal hub connecting commuter rail, light rail and bus rapid transit, regularly scheduled bus service, and others including:
Construction of light rail and commuter rail stations
A regional bus facility
Extension of the 16th Street Mall and the Shuttle service
Accommodation of the Downtown Circulator service
Pedestrian improvements as well as improved street, replacement parking and utility infrastructure.
DUSPA is a nonprofit, public benefit corporation formed by the City of Denver in July 2008 to finance and implement the Project. As project elements are completed, they will be transferred to the Regional Transportation District (RTD), which will maintain each such element of the Project. Once Substantial Completion occurs, RTD will provide for the operation and maintenance of the Project as a complete transportation district.
Denver Union Station acts as a hub for all of Metro Denver's mass transit. The facility includes transportation options offered by the RTD, the Colorado Department of Transportation, and Amtrak, and it connects intercity transit options to the Denver International Airport.  According to DUSPA, the centralized facility facilitates ridership, eliminating vehicle traffic and its accompanying emissions. Since the project's completion, the project area has added over 200 stories of office, retail, residential, and hotel space. The project will continue to promote livability and provide environmental, social, and economic benefits to the Denver region as it adds commuter rail and an expanded bus facility in 2016, bolstering the mentioned benefits.