CTA Blue Line Project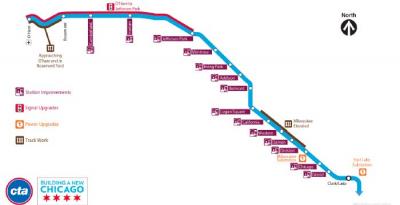 Alternate Project Name
Your New Blue
Status
Credit Agreement Executed
Sponsor/Borrower
Chicago Transit Authority
Project Description
Your New Blue improvement program is a series of modernization projects along the Chicago Transit Authority's (CTA) Blue Line O'Hare Branch running between Grand Station just outside the Loop and O'Hare Station at O'Hare International Airport. This 19-mile stretch of the O'Hare Branch, portions of which date back to 1895, will benefit from various track, power, signals, and station improvements, including:
Extensive renovations at the Grand, Chicago, Division, Damen, California, Logan Square, and Jefferson Park stations
Concrete platform repairs and installation of a new elevator at the Addison station for Americans with Disability Act (ADA) accessibility
Repairs at the Irving Park, Montrose, Harlem, and Cumberland stations
Track improvements to eliminate and prevent slow zones along the Milwaukee elevated track (Division to Logan Square) and along the stretch of track running from Rosemont to O'Hare
Track signal improvements between Jefferson Park and O'Hare
Traction power upgrades to improve service and reliability
Installation of new water management systems and repairs to ensure dry and clean subway stations
The improvements listed above are necessary for the O'Hare Branch to keep pace with growing ridership, which has outpaced the CTA rail system as a whole over the past 10 years. The line serves 80,000 customers each weekday and had more than 26 million station entries in 2014. According to CTA, track improvements, power substation upgrades, and an updated signal system will help CTA reduce the risk of safety incidents, result in more reliable train service, and eliminate current slow zones, resulting in an average travel time savings of five minutes per trip. Safety will also be improved with brighter lighting, cleaner and drier stations, improved entrances, and additional ADA access. The project is expected to generate 1,100 jobs and approximately $292 million in total economic impact. TIFIA financing allows the realization of the stated benefits at a present value debt savings of approximately $44 million.