Central Texas Turnpike System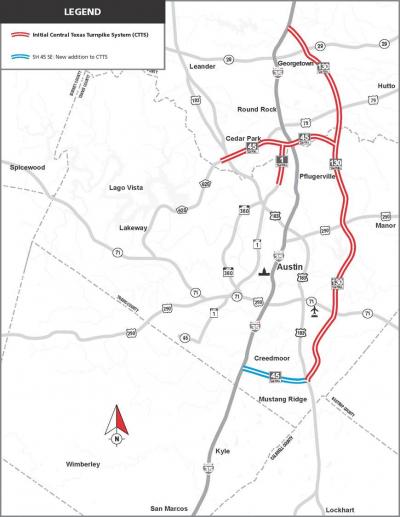 Alternate Project Name
CTTS
Status
Credit Agreement Executed
Sponsor/Borrower
Texas Department of Transportation (TxDOT)
Project Description
When the TIFIA loan closed, the Central Texas Turnpike System (CTTS) consisted of three contiguous toll highways serving the Austin metropolitan region and the Austin-San Antonio corridor:
SH 45 North - 13 miles, four to six lanes, from Ridgeline Boulevard west of U.S. 183 eastward to SH 130
Loop 1 - a northward extension of the existing Loop 1 (Mopac Expressway), three miles from Parmer Lane to SH 45 North
SH 130 (Segments 1-4) - a 49-mile, four-lane tollway extending north-south through Williamson and Travis Counties, extending from I-35 north of Georgetown to U.S. 183 southeast of Austin
SH 130 (Segments 1-4) was procured through Texas' first application of its Exclusive Development Agreement (later Comprehensive Development Agreement) provision, contractual arrangements equivalent to public-private partnerships. In this case, a design-build contract was used to accelerate completion.
SH 130 is 91 miles in total length extending further south and west to I-10. Segments 5 and 6 were constructed under a separate DBFOM (design, build, finance, operate, and maintain) procurement. In August 2012, State Highway 45 Southeast (SH 45 SE) was added to CTTS. Service commenced on November 11, 2012.