Capital Beltway Express/High Occupancy Toll (HOT) Lanes and 495 NEXT in VA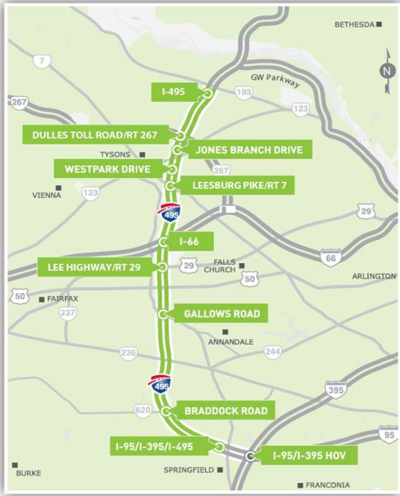 Alternate Project Name
I-495 HOT Lanes, Capital Beltway HOT Lanes, 495 Express Lanes, 495 NEXT
Status
Credit Agreement Executed
Sponsor/Borrower
Virginia Department of Transportation (VDOT)
Project Description
UPDATE: The original loan was refinanced and additional loan awarded to build 2.5 miles of express toll lanes north of the original 14 miles.
There are currently 14 miles of tolled express lanes (two in each direction) on Interstate 495 (Capital Beltway) in Fairfax County, Virginia. The 495 NEXT will extend the express lanes by 2.5 miles from the Dulles Access Road to the George Washington Memorial Parkway near the state line. 
The Capital Beltway High Occupancy Toll (HOT) Lanes project (officially the 495 Express Lanes) is a public-private partnership (P3) between VDOT and Capital Beltway Express, LLC (a joint venture of Fluor and Transurban). The project extends from the Springfield Interchange (south) to just north of the Dulles Toll Road (14 miles). Previously, the Capital Beltway had four lanes in each direction. Improvements included:
14 miles of two new lanes in each direction
First time introduction of High Occupancy Vehicles (HOV) lanes to the Capital Beltway and reliable transit options to the Beltway and Tysons Corner, Virginia
Congestion-free network for carpools, vanpools, transit, and toll-paying motorists
Replacement of more than $260 million of aging infrastructure, including more than 50 bridges and overpasses
Construction of carpool ramps connecting I-95 with the Capital Beltway to create a seamless HOV network
Changes in the composition of the regional economy and shifts in employment patterns over the past 40 years have increased demand for all transportation facilities around the District of Columbia, particularly for roadways such as the Beltway that provide mobility between major suburban employment centers. Given that the last major improvements to the Beltway were completed in 1977, I-495 required substantial upgrades to keep pace with growing demand. According to the project's website, the HOT lanes have considerably increased capacity, reducing congestion and cutting travel times by an average of 20 minutes per trip.