C-470 Express Lanes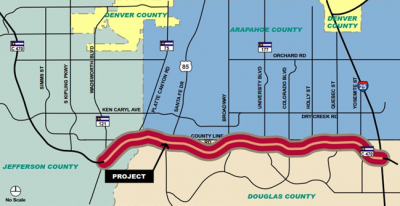 Alternate Project Name
C470 Express Lanes
Status
Credit Agreement Executed
Sponsor/Borrower
Colorado High Performance Transportation Enterprise (HPTE)
Project Description
The project is a 26-mile highway that runs along the southern and western part of the Denver metropolitan area, linking the intersection of I-25 and E-470 in the east, to the intersection of US-36 and I-70 in the west. The project is intended to deliver additional capacity along this congested corridor by adding express tolled lanes (ETLs) and improving road layout over approximately 11.2 miles of the highway. Proposed work includes:
Two westbound ETLs from I-25 to 0.9 miles east of the University Boulevard off-ramp (near Colorado Boulevard), transitioning into one ETL from that location to just east of Wadsworth Boulevard, for a total length of 11.2 miles
Westbound auxiliary lanes between ramps from University Boulevard to Platte Canyon Road/Chatfield Avenue and from Yosemite Street to Quebec Street
One eastbound ETL from Wadsworth to I-25/E-470.
HPTE expects the project to provide up to 18 minutes in travel time savings for a westbound trip from I-25 to Wadsworth during peak and evening commute times, once the facility opens and motorists have time to adjust to the new ETL option.