Regional Infrastructure Accelerators Program
ACCELERATORS are Moving Projects Forward
The Bureau received numerous applications and is reviewing the submissions for final selection. Check back here for the announcement of the new Accelerators and an update on progress from the original five. Additionally, the program budget has been increased by $12 million, moving this pilot project to the next level.
Previous information posted:
View the informational workshop here:  February 17, 2022 Workshop
E-learning videos*: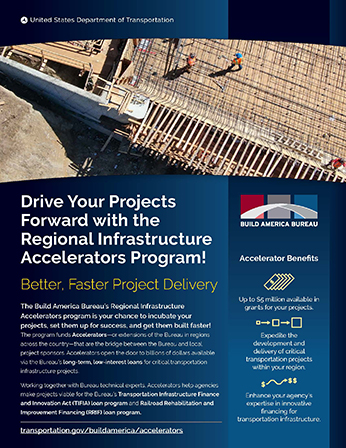 Click the image above for a two-page overview. 
The Bureau issued a second Notice of Funding Opportunity (NOFO) in the Federal Register on January 6, 2022 and via news release January 10, 2022. Up to $5 million is available for grants to form Accelerators and help move regional projects forward. Applications for the second NOFO can be submitted via grants.gov.
The Bureau issued a previous NOFO on December 31, 2020, to solicit applications for designating and funding an RIA. The NOFO application period closed on March 31, 2021. The NOFO resulted in the designation of five RIAs announced in September.
*The Bureau is providing these training modules to help interested parties better understand the Notice of Funding Opportunity (NOFO) for the Regional Infrastructure Accelerators Demonstration program. These videos represent an overview of the program for educational purposes. They are not intended to replace careful review of the published NOFO. All applications must strictly adhere to the requirements listed in the NOFO.
---

Background
The Fixing America's Surface Transportation (FAST) Act, enacted in December 2015, authorized the establishment of a Regional Infrastructure Accelerators Demonstration Program to assist entities in developing improved infrastructure priorities and financing strategies for the accelerated development of a project that is eligible for funding under the Transportation Infrastructure Finance and Innovation Act (TIFIA) Program under Chapter 6 of Title 23, United States Code.
The Further Consolidated Appropriations Act, 2020, enacted on December 20, 2019, appropriated $5 million for this Program.
---
Selected Regional Infrastructure Accelerators
1. Fresno Council of Governments, Fresno, CA: $1 million
Two Rail Intermodal Complexes; Roadway Access and Interchange Improvements; Truck Mobility Complex
2. Chicago Metropolitan Agency for Planning, Chicago, IL: $1 million
Bridge Rehabilitations; ADA Transitions; Electric Vehicle Infrastructure
3. Northeast Ohio Areawide Coordinating Agency, Cleveland, OH: $295,000  
Intermodal Facility; Airport Access Improvement; Improve Road to Healthcare Facility; Pedestrian Connection
4. San Diego Association of Governments, San Diego, CA: $1.47 million
Regional Rail Infrastructure
5. Pacific Northwest Economic Region, Seattle, WA: $1.235 million
Rail and Freight Improvements; Seaport Emission Reduction; Highway/Rail Grade Separation
---
Statutory Authority
The Regional Infrastructure Accelerator demonstration program takes its authority from the 2015 FAST Act as below:
SEC. 1441. REGIONAL INFRASTRUCTURE ACCELERATOR DEMONSTRATION PROGRAM.
(a) In General.--The Secretary shall establish a regional infrastructure demonstration program (referred to in this section as the "program'') to assist entities in developing improved infrastructure priorities and financing strategies for the accelerated development of a project that is eligible for funding under the TIFIA program under chapter 6 of title 23, United States Code.
(b) Designation of Regional Infrastructure Accelerators.--In carrying out the program, the Secretary may designate regional infrastructure accelerators that will--
(1) serve a defined geographic area; and
(2) act as a resource in the geographic area to qualified entities in accordance with this section.
(c) Application.--To be eligible for a designation under subsection (b), a proposed regional infrastructure accelerator shall submit to the Secretary a proposal at such time, in such manner, and containing such information as the Secretary may require.
(d) Criteria.--In evaluating a proposal submitted under subsection (c), the Secretary shall consider--
(1) the need for geographic diversity among regional infrastructure accelerators; and
(2) the ability of the proposal to promote investment in covered infrastructure projects, which shall include a plan--

(A) to evaluate and promote innovative financing methods for local projects, including the use of the TIFIA program under chapter 6 of title 23, United States Code;
(B) to build capacity of State, local, and tribal governments to evaluate and structure projects involving the investment of private capital;
(C) to provide technical assistance and information on best practices with respect to financing the projects;
(D) to increase transparency with respect to infrastructure project analysis and using innovative financing for public infrastructure projects;
(E) to deploy pre-development capital programs designed to facilitate the creation of a pipeline of infrastructure projects available for investment;
(F) to bundle smaller-scale and rural projects into larger proposals that may be more attractive for investment; and
(G) to reduce transaction costs for public project sponsors.
(e) Annual Report.--Not less frequently than once each year, the Secretary shall submit to Congress a report that describes the findings and effectiveness of the program.
(f) Authorization of Appropriations.--There is authorized to be appropriated to carry out the program $12,000,000, of which the Secretary shall use--
(1) $11,750,000 for initial grants to regional infrastructure accelerators under subsection (b); and
(2) $250,000 for administrative costs of carrying out the program.
Last updated: Thursday, June 23, 2022