SS4A Action Plan Grant Application Template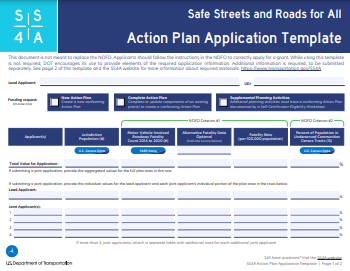 This document provides an optional template that applicants can use to apply for a Safe Streets and Roads for All (SS4A) Action Plan Grant.
This document is not meant to replace the Notice of Funding Opportunity (NOFO), which is available on Grants.gov and Transportation.gov. Applicants should follow the instructions in the NOFO to correctly apply for a grant. 
While using this template is not required, DOT encourages its use to provide elements of the required application information. Additional information is required, to be submitted separately.
See page 2 of this template and SS4A's How to Apply page for more information about required materials.
Last updated: Tuesday, August 16, 2022