Data for Automated Vehicle Integration (DAVI)
Overview
The U.S. Department of Transportation (U.S. DOT) launched DAVI as a multimodal initiative to identify, prioritize, monitor, and – where necessary – address data exchange needs for automated vehicles (AV) integration across the modes of transportation. Access to data is a critical enabler for the safe, efficient, and accessible integration of AVs into the transportation system. Lack of access to data could impede AV integration and delay their safe introduction.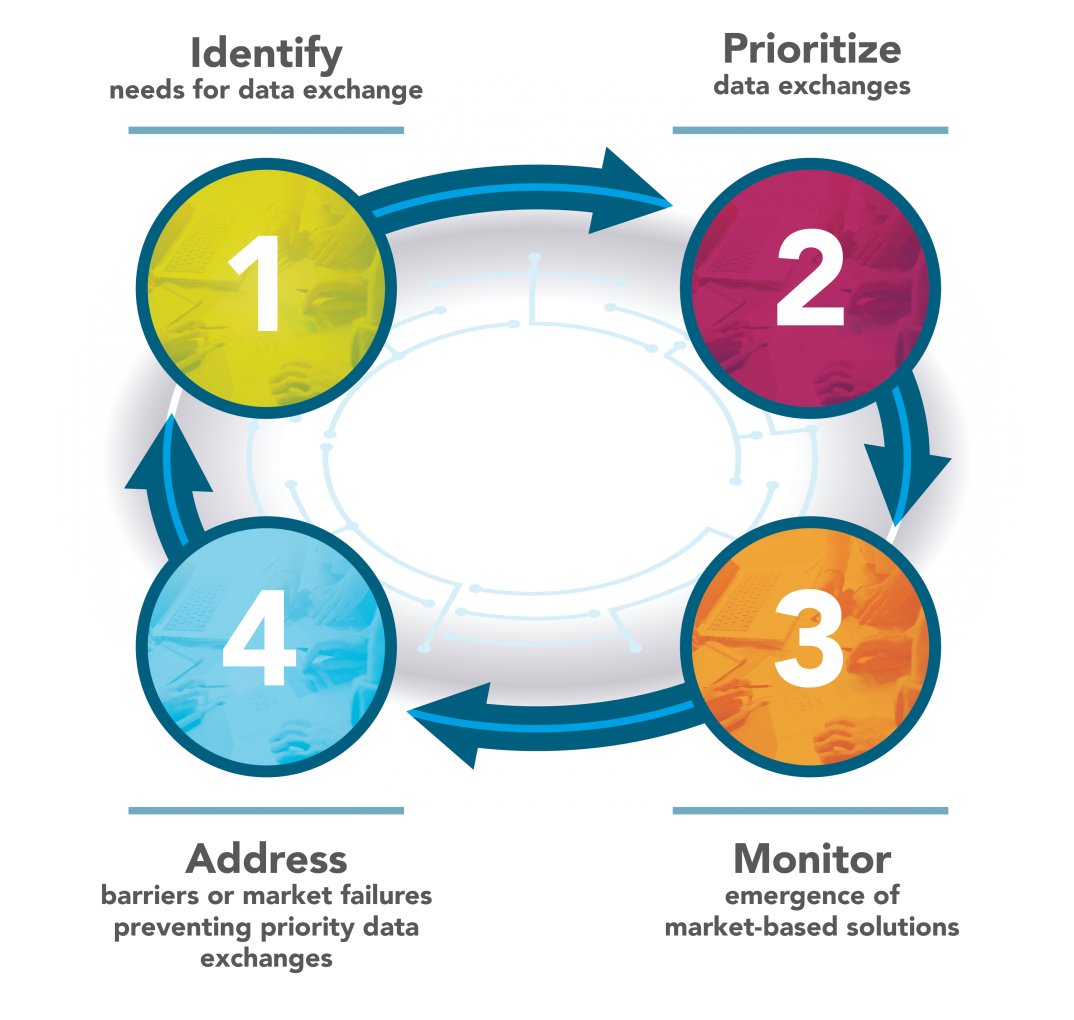 In Ensuring American Leadership in Automated Vehicle Technologies: Automated Vehicles 4.0  (AV 4.0), released in January 2020, USDOT establishes federal principles for the development and integration of automated vehicles, consisting of three core focus areas: prioritize safety and security, promote innovation, and ensure a consistent regulatory approach. AV 4.0 also outlines ongoing Administration efforts supporting AV technology growth and leadership, as well as opportunities for collaboration including federal investments in the AV sector and resources for innovators, researchers, and the public.
This webpage provides information on DAVI resources and activities aimed at facilitating mutually beneficial data exchanges, including the Work Zone Data Exchange (WZDx) project featured in AV 4.0. A U.S. DOT presentation on the DAVI initiative from November 8, 2018, is available here with associated slides.
DAVI Guiding Principles
The DAVI Guiding Principles define an approach for U.S. DOT and our stakeholders to prioritize and facilitate the iterative development of voluntary data exchanges. The principles shape actions by U.S. DOT and its partners to increase access to data for AV integration, and lead to actionable priorities and clear roles in implementation. U.S. DOT continues to refine and use these principles to engage with potential data generators and users.

Read more about the DAVI Guiding Principles
DAVI Framework
The U.S. DOT DAVI Framework provides a common language for identifying and prioritizing data exchange needs across traditional silos. It is designed to help stakeholders working on diverse aspects of AV integration understand each other's data needs and learn from successful exchanges as they emerge. The framework defines key categories, goals, participants, and priorities of data exchange identified by the Department's stakeholders, such as data on work zones that AVs need to navigate safely. U.S. DOT continues to refine and update the framework based on stakeholder inputs.
Read more about the DAVI Framework
Addressing Data Exchange Priorities
U.S. DOT hosted the Roundtable on Data for Automated Vehicle Safety in December 2017 to discuss potential priorities for voluntary data exchanges to accelerate safe AV integration (see summary report). The Department kicked off the WZDx project in March 2018 to take on one of the priorities identified at the roundtable. More information on WZDx is available here.
The Department continues to identify potential data exchange priorities via various stakeholder engagement activities. Visit the Events and Public Notices pages for more information on opportunities to engage, or contact us at avdx@dot.gov.
U.S. DOT recently announced plans to fund Work Zone Data Exchange (WZDx) Demonstration Grants. The purpose of this research program is to increase the safety of the traveling public through the production of consistent public work zone data feeds across jurisdictions. The program plans to provide one-time funding for public roadway operators to make unified work zone data feeds available for use by third parties and collaborate on the WZDx specification development described in more detail on the WZDx page. Updates on this planned funding opportunity will be shared on the WZDx page when available.
U.S. DOT is committed to providing public access to data funded through its research programs, including the Automated Driving System Grants program. Visit the Intelligent Transportation Systems (ITS) DataHub to find new data sets, including recent releases from the Cooperative Automated Research Mobility Applications (CARMA) program.
Many outside the federal government are contributing open training data sets that assist with computer vision and other core ADS functions. These include BDD100K from University of California at Berkeley, the Waymo Open Dataset, the Lyft Level 5 Dataset, the Audi AEV Autonomous Driving Dataset, and the Ford Autonomous Vehicle Dataset. Contact avdx@dot.gov to share other examples of open training data sets.
For more information on the DAVI initiative, please contact avdx@dot.gov.
Last updated: Wednesday, May 20, 2020