Take Action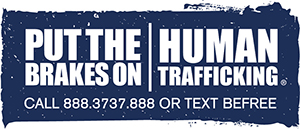 The transportation industry is taking a united stand to stop the flow of human trafficking through America's transportation system. Having a set of core themes interwoven throughout Transportation Leaders Against Human Trafficking (TLAHT) partner initiatives helps to send a clear and consistent message to transportation employees and the traveling public. 
We invite interested stakeholders to use the tools below, and to partner with TLAHT to maximize our collective impact against human trafficking in the transportation industry. 
Table of tools

Become a Partner

Use our tools and partner with other stakeholders across the U.S. through this collaborative effort by committing to the Transportation Leaders Against Human Trafficking Strategy and signing the TLAHT pledge. 
​​​​

Issue a Leader Statement

Make your stakeholders aware of your intention and actions, and call your organization to act!  You can create a counter-trafficking video and make a statement to set an example for your employees and stakeholders.

Train Your Employees

Empower your employees through training to learn common human trafficking indicators and methods of reporting. USDOT's 55,000 employees have taken initial and recurrent counter-trafficking training since 2012.  

Raise Awareness 

Raise awareness among the traveling public using transportation-related and general counter-trafficking materials.
---
REPORT A TIP
Emergency
911
National Human Trafficking Hotline
1-888-373-7888 
Text INFO or HELP to
BeFree (233733)
Homeland Security Investigations Tip Line
866-DHS-2-ICE
(866-347-2423)
---
STAY CONNECTED
Last updated: Friday, July 28, 2023