Human Trafficking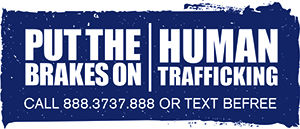 The U.S. Department of Transportation (DOT) combats human trafficking by working with public and private sector stakeholders to empower transportation employees and the traveling public to recognize and report possible instances of human trafficking.  
DOT Secretary Elaine L. Chao's Statement Against Human Trafficking
Transportation Leaders Against Human Trafficking

DOT's Transportation Leaders Against Human Trafficking (TLAHT) initiative was formed in 2012 for transportation and travel industry stakeholders to maximize the transportation industry collective impact on human trafficking.  TLAHT's focus areas are leadership, training and education, policy development, public awareness, and information sharing and analysis.  Partners take action to combat human trafficking by issuing leadership statements, signing pledges, developing reporting protocols, training their employees, and conducting public awareness campaigns. 
Training
DOT Employees
DOT's 53,000 employees are trained to recognize and report human trafficking every three years.
Transit
DOT's training tailored for the transit industry includes indicators of human trafficking and how to report the crime.  
Interagency Partnership
DOT collaborates with the Department of Homeland Security to offer transportation stakeholders human trafficking awareness trainings tailored for the rail, motor coach, and aviation industries. To date, Amtrak trained 20,000 employees, Greyhound trained all of its drivers, and 26 aviation industry partners trained over 100,000 employees under the Blue Lightning Initiative (BLI) for aviation personnel.
Public Awareness
Raising public awareness is a key component of DOT's work with stakeholders, so the Department provides print-ready posters and multimodal logos for the transportation industry.  The posters can be tailored to each partner with their logo and preferred reporting mechanisms.  We request that users sign the TLAHT pledge to utilize the posters. 
Annual Award
The U.S. Department of Transportation's annual Combating Human Trafficking in Transportation Impact Award aims to incentivize individuals and entities to think creatively in developing innovative solutions to combat human trafficking in the transportation industry, and to share those innovations with the broader community.  The award is open to individuals and entities, including non-governmental organizations, transportation industry associations, research institutions, and State and local government organizations. Entrants compete for a $50,000 cash award that will be awarded to the individual(s) or entity selected for creating the most impactful counter-trafficking initiative or technology.  Full details can be found in the Federal Register Notice.
Federal Advisory Committee
DOT established the Advisory Committee on Human Trafficking on October 3, 2018.  The committee was tasked with providing information, advice, and recommendations to the U.S. Secretary of Transportation on matters relating to human trafficking, and developing recommended best practices for states and state and local transportation stakeholders in combating human trafficking.  The committee submitted their final report on July 2, 2019. 
Federal Coordination
DOT is a member of the President's Interagency Task Force (PITF) and Senior Policy Operating Group (SPOG).  The PITF is a Cabinet-level entity chaired by the Secretary of State created by the Trafficking Victims Protection Act of 2000 (TVPA) to coordinate Federal efforts to combat trafficking in persons.  The TVPA, as amended in 2003, also established the SPOG, which consists of senior officials designated as representatives of the PITF members. The SPOG, chaired by the Department of State, coordinates interagency policy, grants and research; planning issues involving international trafficking in persons; and the implementation of the TVPA.
International
DOT continues to underscore the important role transportation ministries have in combating human trafficking in the Asia Pacific Economic Cooperation Transportation Working Group (APEC-TPTWG), the International Transport Forum (ITF), and the International Civil Aviation Organization (ICAO).
---
Report a Tip
-- In an Emergency, Call 911 --
Human Trafficking is a crime involving the exploitation of someone for the purposes of compelled labor or a commercial sex act through the use of force, fraud, or coercion. Where a person younger than 18 is induced to perform a commercial sex act, it is a crime regardless of whether there is any force, fraud, or coercion. Victims can be anyone from around the world or right next door: women and men, adults and children, citizens and noncitizens alike.
NATIONAL HUMAN TRAFFICKING HOTLINE
1-888-3737-888
or text 233733
GET HELP and connect with a service provider in your area
REPORT A TIP with information on potential human trafficking activity
LEARN MORE by requesting training, technical assistance, or resources
The National Human Trafficking Hotline (NHTH) is a national, toll-free hotline available to answer calls from anywhere in the country, 24 hours a day, 7 days a week, every day of the year. The NHTH is not a law enforcement or immigration authority and is operated by a nongovernmental organization funded by the Federal government.
U.S. DEPARTMENT OF HOMELAND SECURITY
1-866-347-2423 (U.S.)
1-802-872-6199 (International)
Call the U.S. Immigration and Customs Enforcement (ICE) Homeland Security Investigations (HSI) Tip Line directly to report suspected human trafficking activity and get help 24 hours a day, 7 days a week, every day of the year. Highly trained specialists take reports from both the public and law enforcement agencies on more than 400 laws enforced by ICE HSI, including those related to human trafficking.
Stay Connected
Last updated: Tuesday, June 30, 2020