Transportation Leaders Against Human Trafficking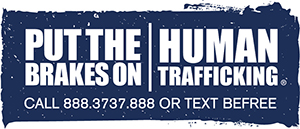 The Department of Transportation's Transportation Leaders Against Human Trafficking (TLAHT) initiative is comprised of transportation and travel industry stakeholders working jointly to maximize their collective impact in combating human trafficking. To date, TLAHT has engaged with hundreds of organizations from across the transportation industry.
As many as 27.6 million men, women, and children are held against their will and trafficked into forced labor and prostitution.  According to the Trafficking Victims Protection Act of 2000, human trafficking is defined as:
(A) sex trafficking in which a commercial sex act is induced by force, fraud, or coercion, or in which the person induced to perform such act has not attained 18 years of age; or
(B) the recruitment, harboring, transportation, provision, or obtaining of a person for labor or services, through the use of force, fraud, or coercion for the purpose of subjection to involuntary servitude, peonage, debt bondage, or slavery.
TLAHT focuses on five key areas and connects transportation stakeholders to available resources on: industry leadership, industry training and education, policy development, public awareness, and information sharing and analysis.  
Leadership
Increase the number of transportation industry leaders and influencers engaged on the human trafficking issue
Increase the number of public, private and cross-modal transportation industry partnerships addressing human trafficking
Industry Education and Training
Create and implement training protocol with industry specific materials for each transportation mode
Develop the internal, cross-modal and inter-agency systems that allows each industry to be saturated with counter-trafficking materials and assist them in creating specific goals to combat trafficking
Form partnerships with law enforcement, NGOs, and other government agencies in order to identify and fix vulnerabilities that traffickers exploit to transport victims
Policy Development
Increase the number of transportation organizations that have established working groups and integrated human trafficking into their policy initiatives
Increase the number of transportation organizations that have adopted a policy on human trafficking in their supply chain
Public Awareness and Outreach
Develop core transportation messaging on trafficking awareness that can be adapted readily for specific modes
Develop a publicly available transportation toolkit that includes resources such as:

Transportation leader statement template
Talking points and presentation materials
Consumer awareness posters and literature for the traveling public
Training videos and programs for transportation industry partners
Template article for transportation trade publications
Transportation-specific survivor stories
Available statistics
Hotline information
Information Sharing and Analysis
Foster a collaborative online workspace for transportation stakeholders that includes shared data, strengthens communication and facilitates mutually reinforcing activities
Analyze human trafficking incidents to identify and describe indicators in trafficking behaviors and actions

Highlight incidents of human trafficking that were detected, investigated, and disrupted as a result of reporting by the traveling public or transportation employees.
TLAHT offers a variety of resources, including:
---
REPORT A TIP
Emergency
911
National Human Trafficking Hotline
1-888-373-7888 
Text INFO or HELP to
BeFree (233733)
Homeland Security Investigations Tip Line
866-DHS-2-ICE
(866-347-2423)
---
STAY CONNECTED
Last updated: Monday, July 10, 2023