USDOT Mode and Resource Description: Maritime Administration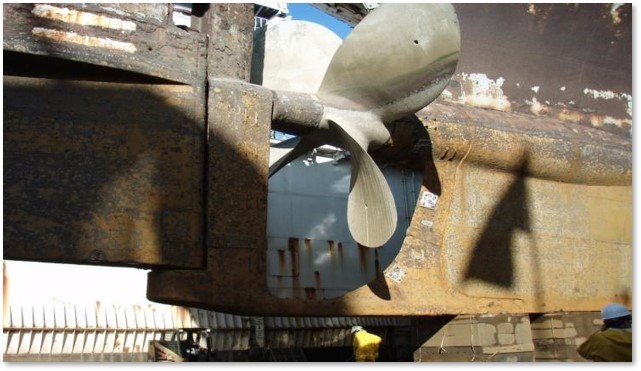 MARAD's mission is to foster and promote the U.S. Merchant Marine and the American maritime industry to strengthen the maritime transportation system — including landside infrastructure, the shipbuilding and repair industry, and labor — to meet the Nation's economic and national security needs. The agency promotes the use of waterborne transportation and ensures that its infrastructure integrates seamlessly with other methods of transportation. 
America's Marine Highway Grants
The America's Marine Highway Grants program goal is to expand the use of America's navigable waters for the transportation of freight. MARAD works closely with public and private organizations to: (1) develop and expand marine highway service options and facilitate their further integration into the current U.S. surface transportation system, especially where water-based transport is the most efficient, effective, and sustainable option; and (2) highlight the benefits, increase public awareness and promote waterways as a viable alternative to "landside" shipping and transportation options. 
This program provides special consideration to projects that enhance the economic competitiveness of rural areas. Per the FY19 NOFO, applicants were required to provide a 20% funding match. 
Assistance to Small Shipyards Grant Program
The Assistance to Small Shipyards Grant Program is designed to support projects at small shipyards that involve capital improvements or training for workers in shipbuilding, ship repair, and associated industries. These types of projects drive efficiency, competitive operations, and quality ship construction, repair, and reconfiguration across the industry.
The FY19 NOFO stated that average grant amounts were estimated at $1 million, where no more than 25% of the funds available were awarded to shipyard facilities in one geographic location that has more than 600 production employees. Per FY19 NOFO guidance, applicants were required to provide a 25% funding match. 
Port Infrastructure Development Grant Program 
The Port Infrastructure Development Grant Program supports a broad range of improvements within, or around, Great Lakes, inland river ports, and coastal seaports to improve safety, reliability, or efficiency. Funding can be used for infrastructure improvements at all Great Lakes, inland riverports, and coastal seaports. 
The minimum possible award amount will be reduced to $1 million for FY20, according to the NOFO, and are required to provide a 20% funding match.
Additional MARAD Resources
For more support with MARAD grant programs, refer to the following resource
s and links.
Grants Resources | MARAD maintains a grants and finances webpage for its programs that includes tutorials to assist applicants with Federal grant reporting requirements.   
Gateway Offices | MARAD provides critical marine transportation outreach activities at our major U.S. gateway ports, driven by 10 of the largest ports on the West, East, and Gulf Coasts, the Great Lakes and the inland river system. Gateway Offices are MARAD's day-to-day presence throughout the Marine Transportation System and are critical to the viability and effectiveness of the Maritime Administration and its future programs. At their core, they identify transportation bottlenecks and ways to improve freight movement; act as liaisons for MARAD to help ensure that measurable progress is made on specific projects, as well as to bring Agency and Departmental expertise to the table; and work with stakeholders to promote collaboration among Federal, State, local and private partners on challenges facing the Marine Transportation System (MTS) in their areas of responsibility, focusing particularly on planning and environmental issues. 
Port Planning and Investment Toolkit | In partnership with the American Association of Port Authorities (AAPA), MARAD brought together experts from around the port industry to develop an easy-to-read, easy-to-understand, and easy-to-execute Port Planning and Investment Toolkit to help ports execute capital improvement projects necessary to meet increasing demand. The Port Planning and Investment Toolkit focuses on planning, financing, and project development and is intended to help ports navigate this process in the most efficient manner possible. The toolkit can help ports evaluate port conditions, define problems, plan thoroughly, navigate the preplanning process, engage private partners, present actionable needs to administrators, access available funding, and complete the project. 
The toolkit includes modules that include an Introduction and Users Guide, General Projects Module, Intelligent Transportation Systems (ITS) Module, ITS Overview and ePrimer, Resource Catalogue, and a Port Concession Evaluation Model. Additional information and downloadable links for toolkit and module materials can be found on the ITS website.
 
Last updated: Friday, July 23, 2021