Federal Funding and Financing: Grants
This section of the Grant Applicant Toolkit defines what a federal grant is.
The following linked sections also explain how a grant differs from several other common types of Federal Government funding and financing: 
What Is a Grant?
A grant is one of many different forms of financial assistance. A grant is a way the government funds projects to provide public services and stimulate the economy.
In the case of USDOT grants or construction grants, federal grants provide funding that is awarded through reimbursable payments.
Grants support critical recovery initiatives, innovative research, and many other programs listed in the Federal assistance listings. The intent of most grants is to fund projects that will benefit specific parts of the population or the community as a whole.
Advantages of Grant Funding
Grant funding is generally non-repayable once awarded, and project sponsors thus avoid incurring debt or interest expenses if completed successfully.
In some cases, grants may be a lower-risk way of obtaining assistance compared to loan financing, without potentially impacting credit ratings and assets.
What Makes a Grant "Discretionary"?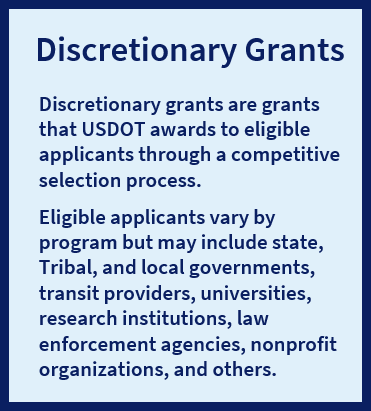 Discretionary grants are grants that USDOT awards to eligible applicants usually through a competitive selection process. Eligible applicants vary based on the specific grant program but may include state, Tribal and local governments, transit providers, universities, research institutions, law enforcement agencies, nonprofit organizations, and others.
USDOT administers its discretionary grant programs through its operating administrations (OAs or "modes"). Each mode solicits applications and selects projects based on program and applicant eligibility, evaluation criteria, and Departmental or program priorities, therefore making it "discretionary."
Learn more about  USDOT Discretionary Grant Programs, by Mode.
Discretionary grants also differ from block grants and categorical grants, which are usually distributed as a "pot" to recipients for specific services (the latter type with many restrictions).
Formula grants, block grants, and categorical grants are all considered non-discretionary funding sources. Since discretionary grants are not awarded to every applicant, they are considered competitive compared to these other types of federal grants.
This toolkit focuses on discretionary grant programs only but also provides resources for applicants to explore other funding sources, both within and outside of USDOT.
Non-Discretionary Funding Opportunities: Formula Grants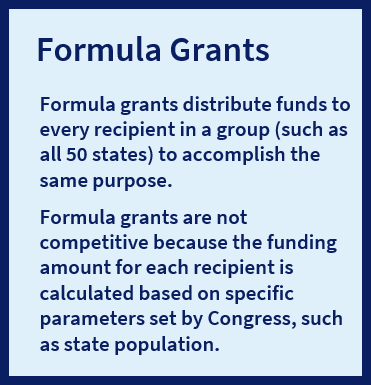 The most common non-discretionary opportunities offered by federal agencies are formula grants, which distribute funds to every recipient in a group (such as all 50 states) to accomplish the same purpose. These may also be known as federal-aid funds or formula funds.
Formula grants are not competitive because the funding amount for each recipient is calculated based on specific parameters set by Congress, such as state population.
USDOT distributes these formula funds to states, federally recognized Tribal recipients, and transit agencies as primary recipients. When the funds are further allocated to local entities, the primary grant recipient acts as a pass-through entity for the local entity, who becomes a subrecipient for the grant.
Formula Grant Examples
Examples of formula grants include the Formula Grants for Rural Areas (Section 5311), Enhanced Mobility of Seniors and Individuals with Disabilities (Section 5310), and Grants for Buses and Bus Facilities Formula Program (Section 5339[a]) issued by the USDOT Federal Transit Administration (FTA).
For More Information on Formula Grants, Contact Your State DOT
Contact your state DOT for more information about available highway-related formula grant funding programs and opportunities for formula grant subrecipients.
Access a list of all state Departments of Transportation, provided by FHWA.
How Federal Grants Are Announced
Federal grant opportunities are announced during different phases of the grant cycle via a publicly available document that goes by one of the following names:
Notice of Funding Opportunity (NOFO)
Notice of Funding Availability (NOFA)
Funding Opportunity Announcement (FOA)
Opportunities are frequently announced via USDOT Press Releases, can often be found on the Federal Register under the USDOT Notices, are posted on agency websites, and are made available for access on Grants.gov.
Where Does Grant Money Come From?
Congress, the Legislative Branch of government (elected by citizens), proposes appropriations of taxpayer funds for government functions, including for federal agencies in the Executive Branch of government (like USDOT). The President (chosen through the electors of the electoral college voted by the citizens) must then sign these appropriations bills into law (effectively agreeing with Congress) before these funds are made available to agencies. Agencies then distribute funding through grant programs.
See a full list of federal agencies that provide grant funding (also called "grant-making agencies").
In 2021, members from both major Congressional parties came together to pass the Infrastructure Investment and Jobs Act (IIJA), more commonly called the Bipartisan Infrastructure Law (BIL), signed by President Biden, which provided $1.2 trillion for transportation and infrastructure. Of that total, $550 billion is going toward new federal investments in America's infrastructure.
This new funding has allowed USDOT and other federal agencies to award new discretionary grants for funding transportation infrastructure improvements, many of which are outlined here in the Grant Applicant Toolkit.
Learn More and Get Help Applying
Grants.gov
To learn more about federal grants—including grant eligibility, grant writing, and applications—please visit Grants.gov's Community Blog and Grants 101 pages.
DOT Navigator
Within USDOT, the DOT Navigator can help individuals and organizations apply for grants, and plan for and deliver transformative infrastructure projects and services.
The online site provides:
General information for developing grant applications and understanding frequently required documents.
Contacts to USDOT regional and field offices.
A searchable menu of technical assistance resources available to help new and repeat grant recipients realize their communities' vision for moving goods and people safely, efficiently, sustainably, and equitably.
Many of the Navigator resources are available in Spanish.
Applicants of all grant experience levels can find best practices and other guidance on the DOT Navigator that will help them get started.
Last updated: Monday, November 20, 2023