Maximizing Award Success: Navigating Federal Grant Applications
Finding Funding Opportunities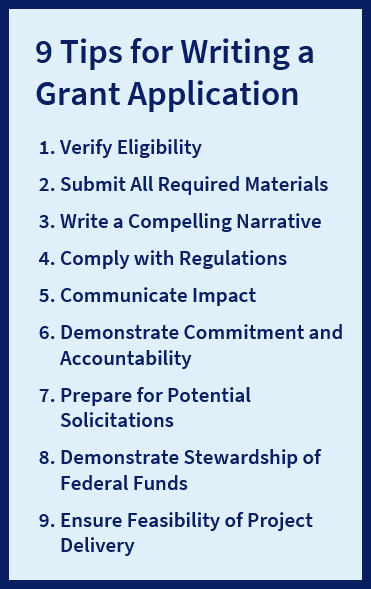 All federal discretionary grant opportunities must be posted through Grants.gov. Get tips and guidance on How to Navigate Grants.gov to Submit Applications.
Understanding Program NOFOs
Searching for funding opportunities on Grants.gov will allow you to find open grants that meet the criteria you specify. Once a funding opportunity has been found, viewing it will provide a summary of the grant. A more detailed NOFO can be found within the tab containing related documents. NOFO structure is standardized.
A NOFO must include the following, as per 2 CFR 200.204: 
Summary Information

Federal Awarding Agency Name
Funding Opportunity Title
Announcement Type
Funding Opportunity Number
Assistance Listings Number(s)
Key Dates

Availability Period
Description of the Funding Opportunity

Full programmatic description of the funding opportunity
Federal award information: including sufficient information to help an applicant make an informed decision about whether to submit an application (For example, total funding amount, anticipated number and size of awards, and period of performance)
Specific eligibility information: including any factors or priorities that affect an applicant's or its application's eligibility for selection (May also include cost-sharing requirements)
Application Preparation and Submission Information: including the applicable submission dates and time (May also include format requirements, funding restrictions)
Application Review Information: including the criteria and process to be used to evaluate applications (May also include anticipated award announcement dates)
Federal Award Administration Information (For example, award notice and reporting requirements)
Applicable terms and conditions for resulting awards
Grants.gov has training resources and videos to learn more about the details of navigating their website and application systems.
9 Tips for Writing a Grant Application
In addition to the below general guidance for writing a grant application, see USDOT Grant Evaluation Criteria and USDOT Grant Application Considerations for information on the requirements specific to USDOT grants and Other Federal Agencies' Grant Funding Process for links to resources to learn more about requirements for grants outside of USDOT.
Verify Eligibility
Before beginning an application, make sure you review the eligibility information from the NOFO to verify that your organization meets the requirements to be considered for the grant. Similarly, make sure the project you are hoping to fund falls within the requirements of the program.
In addition, make sure to review the match requirements to ensure that if there is a cost-sharing requirement, your organization can meet it. Specific eligibility requirements vary by grant.
Submit All Required Materials
It is important to double check that all the required materials and/or attachments are included as part of your application package.
Write a Compelling Narrative
Some grant programs will require the applicant to submit a narrative with their application. This is a written description of why there is a funding need, how the proposed project will address this need, and what positive impact the project is expected to have on the community.
If the NOFO specifies contents and format for the narrative, verify that you have followed the formatting specified in these requirements and included all the required information.
Describe how your proposed project will support the priorities of the grant program as stated in the NOFO, as well as the priorities of the agency and Department funding the grant.
You may wish to include letters of support from the community to help demonstrate the need for the project.
Comply with Regulations
Compliance with local, state, and federal regulations throughout the application process and after award is required and critically important to project award and implementation. For example, certain programs require environmental reviews, special permits, performance and status reports, and other standards in accordance with federal policies.
Applicants will also need to comply with OMB's Uniform Administrative Requirements, Cost Principles, and Audit Requirements for Federal Awards as provided by 2 CFR part 200. Carefully review requirements and clearly articulate compliance in this regard.
Communicate Impact
Some programs may require an applicant to articulate the potential impact of the proposed project. Consider quantifying statements as much as possible or providing data points specific to the project area and/or community.
Demonstrate Commitment and Accountability 
Some programs may require an applicant to demonstrate that it can collect, house, analyze, and return any needed data on the project throughout its lifecycle. Consider setting the project up for success by clearly outlining processes and procedures for tracking and monitoring project activities throughout the lifecycle. This may include performance measures, financial plans, or staffing models.
Prepare for Potential Solicitations
Depending on the program, applicants may have to solicit a Request for Proposal for partners and providers as a step in the application process. Consider program-specific criteria in determining the most cost-effective bidder. Contact your designated program point of contact for more information on solicitations. 
Demonstrate Stewardship of Federal Funds
Demonstrating the capacity and internal controls to effectively manage awarded funds may bolster an applicant's appearance as a strong candidate for federal investment. Applicants may need to demonstrate their organization has sound procurement policies and procedures in place, some of which will need to be in adherence with federal acquisition requirements.
The following activities may help applicants to draft better applications:
Engage with subject matter experts to provide any technical or nuanced inputs and information (e.g., financial, engineering) to the application.
Attend any financial management trainings provided for new potential applicants.
Connect with state and local resources as needed to assist with financial planning, permitting, and other approvals.
Identify and reach out to a program's point of contact with specific questions as they arise.
These activities are not considered by DOT as part of their grant selection process but can help applicants draft more competitive applications.
Ensure Feasibility of Project Delivery
Each operating administration with responsibility for obligating USDOT grant funds has its own regulations, policies, and procedures that may apply to projects selected. For example, projects may require applicants to complete environmental review and permitting, right-of-way acquisition, public engagement, and/or feasibility studies.
It is important that applicants ensure that their project can be obligated and delivered in the specified timeframe, as set forth in the NOFO and in consideration of any statutory deadlines.  
Last updated: Monday, November 20, 2023