USDOT Discretionary Grant Process



The discretionary grant funding process begins with Congressional legislation and concludes with the closeout of the awarded project. The grant lifecycle is broken down into four phases: (0) Legislation, (1) Pre-Award, (2) Award, and (3) Post-Award. At a high-level, the phases include:
0. Legislation: Program authorization and funding appropriation by Congress
1. Pre-Award: Funding opportunity announcement, applicant solicitation, and application submission
2. Award: Application evaluation, award decisions, and grant recipient notifications
3. Post-Award: Project execution, monitoring, and closeout
Disclaimer: This Applicant Toolkit includes USDOT competitive discretionary grant programs that may fund capital infrastructure projects and/or non-infrastructure safety projects. Capital infrastructure projects may include equipment purchases and facility construction, repair, replacement, rehabilitation, and/or expansion. Non-infrastructure safety projects may include public safety campaigns, workforce training, roadway demonstrations, and/or technical assistance. 
Applicant Roadmap 
Use the numbered steps below to navigate general applicant activities during the USDOT discretionary grant funding process. USDOT activities are also included for reference. Note that specific steps may differ by program.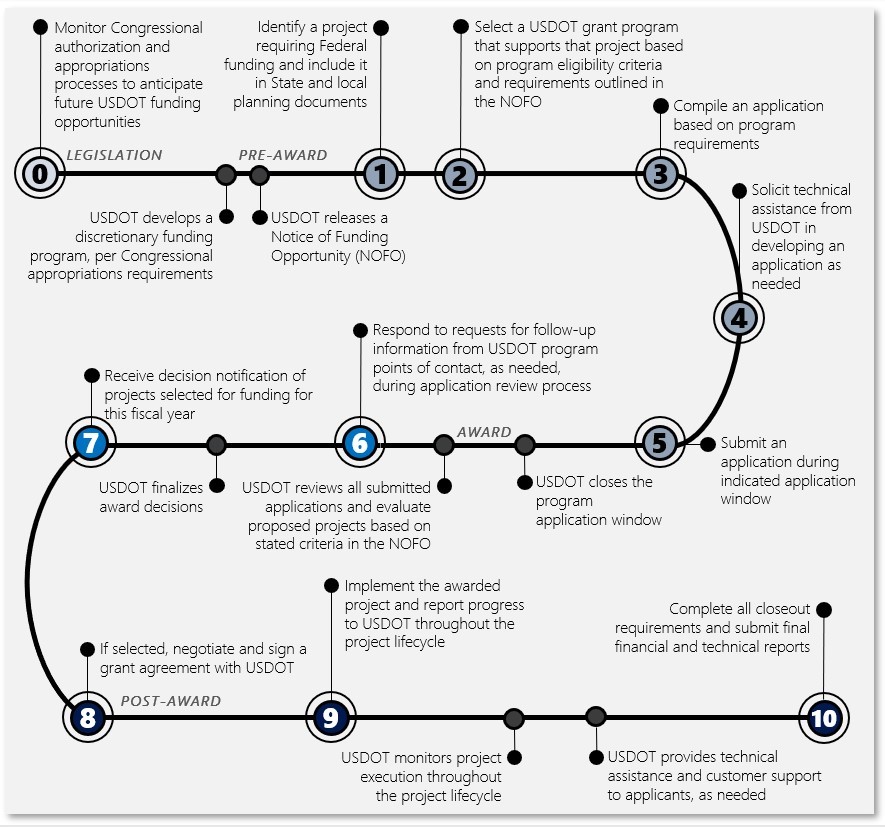 Note: This roadmap is not to scale.
Legislation: 
Step 0: Consider monitoring Congressional authorization and appropriations processes to anticipate future USDOT funding opportunities
USDOT develops a discretionary funding program, per statutory requirements
Pre-Award:
USDOT releases a Notice of Funding Opportunity (NOFO)
Step 1: Identify a project requiring Federal funding and include it in State and local planning documents
Step 2: Select a USDOT grant program that supports that project based on program eligibility criteria and requirements outlined in the NOFO
Step 3: Compile an application based on program requirements
Step 4: Solicit technical assistance from USDOT in developing an application as needed
Step 5: Submit an application during indicated application window
USDOT closes the program application window
Award:
USDOT reviews all submitted applications and evaluates proposed projects based on stated criteria in the NOFO
Step 6: Respond to requests for follow-up information from USDOT program points of contact, as needed, during application review process
USDOT finalizes award decisions
Step 7: Receive decision notification of projects selected for funding for the fiscal year
Post-Award:
Step 8: If selected, negotiate and sign a grant or project agreement with USDOT
Step 9: Implement the awarded project and report progress to USDOT throughout the project lifecycle
USDOT monitors project execution throughout the project lifecycle
USDOT provides technical assistance and customer support to applicants, as needed
Step 10: Complete all closeout requirements and submit final financial and technical reports  
Grants Process Tips and Resources
The following tips and resources may provide further insights for applicants throughout the discretionary grant funding process. 
Legislation: Authorization and Appropriation
Monitor program authorization and appropriations legislation and anticipate funding opportunities in the coming fiscal year by referring to materials from the House Appropriations Subcommittee on Transportation, and Housing and Urban Development, and Related Agencies  and the Senate Appropriations Subcommittee on Transportation, Housing and Urban Development, and Related Agencies
Pre-Award: Solicitation and Submission
Use the "USDOT Discretionary Funding Matrix" in this toolkit to explore possible funding programs
Refer to the "Navigating Grant Program Applications" section of this toolkit for information on compiling an application
Leverage the Federal Grant Applicant Resources page for additional information on account registration, eligibility, training, and FAQs
Explore Federal Grant Pre-Award guidance 
Contact the USDOT Program Point of Contact for information on program-specific assistance
Award: Evaluation and Selection
Refer to the "USDOT Applicant Considerations" section of this toolkit for tips on how to craft your application for the USDOT evaluation and review 
Monitor funding announcements on the USDOT grants website 
Read press releases about selected awards on the USDOT webpage to learn about other projects
Post-Award: Execution and Monitoring
Consider the reporting requirements for an award. General information about a program's reporting requirements can be found in the respective program NOFO. USDOT NOFOs can be found on the Federal Grants website and the program's website (hyperlinked in the "USDOT Mode and Resource Descriptions" section of this toolkit)
Comply with relevant local, State, and Federal regulations
Contact the USDOT Program Point of Contact for additional guidance throughout the post-award phase
For more information on the grants funding process and supporting resources, please visit the Grants.gov Grants 101 page and review the Grant Lifecycle Timeline.
Last updated: Friday, July 23, 2021