Northwest Region SBTRC
About Us
The Economic Alliance of Snohomish County (EASC) is a grantee of the U.S. Department of Transportation and hosts the Northwest Small Business Transportation Resource Center (SBTRC). The Northwest SBTRC serves the states of Alaska, Idaho, Montana, Oregon and Washington. 
Economic Alliance Snohomish County is a non-profit serving as a combined economic development organization and countywide chamber of commerce. We bring together private-public partners to create a unified voice for Snohomish County.  Economic Alliance Snohomish County is a catalyst for economic vitality resulting in stronger communities, increased job creation, expanded educational opportunities, and improved infrastructure.
Services
The Northwest SBTRC provides an array of technical assistance to build the capacity of small and disadvantaged businesses that include: 
    Business Analyses
    Market Research and Procurement Assistance
    General Management & Technical Assistance
    Business Counseling & Coaching
    Regional Planning Committees
    Liaison between Prime Contractors and Sub-Contractors
    Outreach/Conference Participation
    Capital Access and Surety Bond Assistance
    Women & Girls In Transportation Initiative
Contact Us
Gary Clark
Executive Director, SBTRC
Phone: (425)248-4211
Fax: (425) 745-5563
Email:
GarryC@economicalliancesc.org
Aisha Qadri
Project Director
808 134th St. S.W., Suite 101
Everett, WA 98204
Phone: (425) 492-4940
Fax: (425) 745-5563
Email:
AishaQ@economicalliancesc.org
VACANT
Project Coordinator
Phone: (425)
Fax: (425) 745-5563
Email:
Regional Resources:
State DOTs
BEPs IN ALASKA & OREGON
In January 2019, the Northwest Small Business Transportation Resource Center (NW SBTRC) conducted a Bonding Education Program (BEP) workshop in Portland, Oregon with the Oregon Department of Transportation.  In February 2019, the NW SBTRC partnered with Alaska DOT, and AGC of Alaska to conduct a 2-day BEP workshop, during the 16th Annual Alaska DBE & Subcontractor's Conference. The target audience for these programs included minority and woman-owned, small & emerging contractors/consultants, 8(a) firm, and Alaskan Native American firms in the transportation field, who are seeking to increase their business capacity and run their operation more effectively.  There were more than 100 attendees for the Alaska event alone!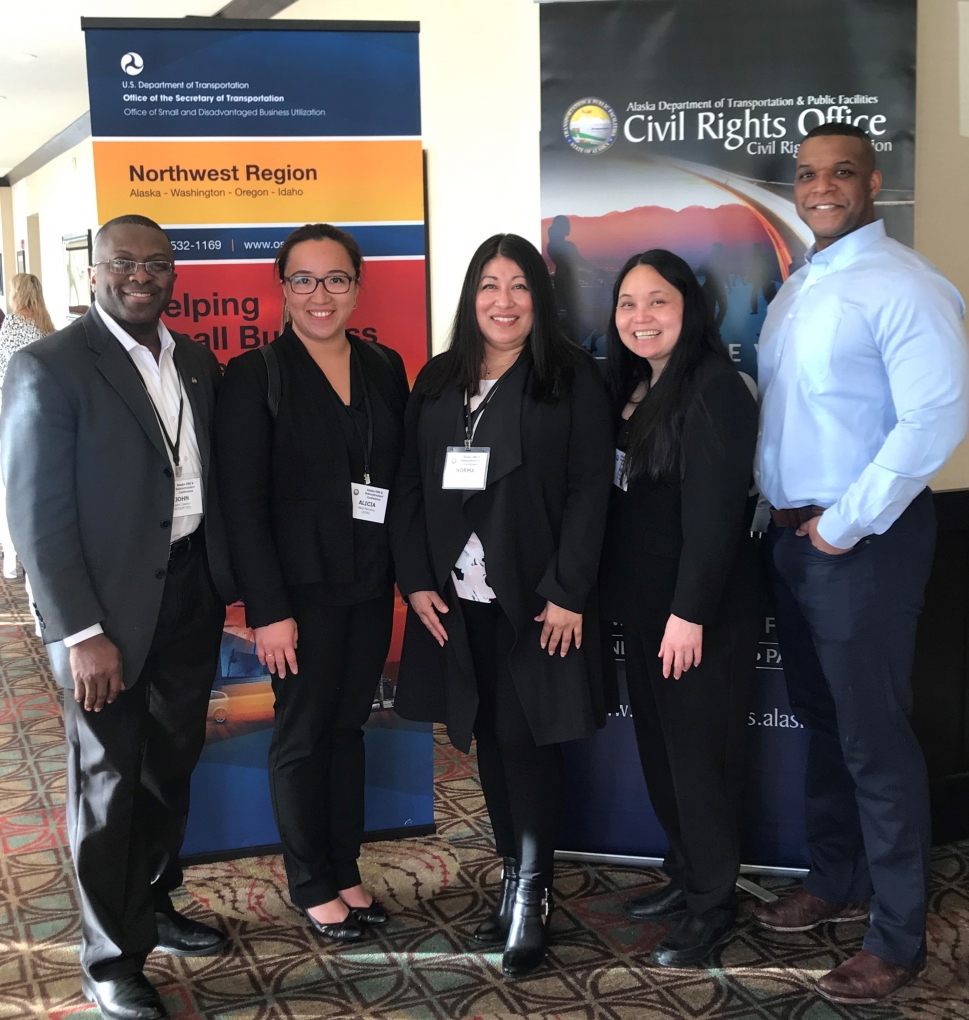 In Alaska, pictured above Left to Right:
John Teamer, M. Alicia, Norma Lucero, Ann Pham, Rashaud Joseph
In Oregon: Speaker, Don Shanklin, Propel Insurance
Left to right: Andre Bealer, NAMC- Oregon Chapter; Andrew Warren & Katie Gillespie, ODOT; Lily Keeffe & Alicia, Northwest SBTRC
Last updated: Tuesday, July 7, 2020