About Us
The Economic Alliance of Snohomish County (EASC) serves as the Northwest Small Business Transportation Resource Center (NW SBTRC), a regional office of the U.S. Department of Transportation, Office of Small Business. The NW SBTRC executes the U.S. DOT's small business assistance programs throughout the states of Alaska, Idaho, Oregon and Washington. The goal of the NW SBTRC is to increase the ability of small businesses to compete for and enter into transportation-related contracts at the local, state and federal levels throughout the region.
The Northwest SBTRC will continue to offer services at its EASC location in Everett, WA, with access to meeting space at Sound Transit and Community Transit. Sound Transit and Community Transit are recipients of FTA funding and are located in Seattle and Everett, WA. The NW SBTRC will periodically be on-site to utilize meeting space at both offices, providing technical service to DBE firms who are interested in doing business with USDOT Funded Recipients. The NW region technical assistance includes procurement assistance (bid preparation and invoice preparation), small business certification application assistance, bonding assistance and financial assistance which include Short Term Lending Program (STLP) and other government lending programs.  
The following are highlights of NW SBTRC successes since its inception in 2008 in the Northwest Region:
Provided assistance and outreach to more than five thousand SDBs in Northwest Region.
Provided assistance to approximately fifty (50) firms in submitting STLP applications and other lending programs; awarded loans totaling $4 million.
Assisted more than forty one (41) firms in obtaining/increasing their bonding, with a total of $66 million.
Assisted and placed sixty five (65) interns at transportation agencies, prime and small contractors for the Women and Girls in Transportation Initiative (WITI). Twenty (20) WITI participants obtained a full time position at transportation agencies/firms.
Assisted approximately 100 small and disadvantaged businesses in the Northwest Region to obtain more than $40M in contract from transportation and non-transportation projects.
Hosted the regions' biggest transportation small business summit, North Puget Sound Small Business Summit (NPSSBS), for two consecutive years. The Summit attracted by 800 people, 100 exhibitors; and more than 70 firms engaged in transportation-related matchmaking sessions with more than twenty small business trainings were conducted during the summit.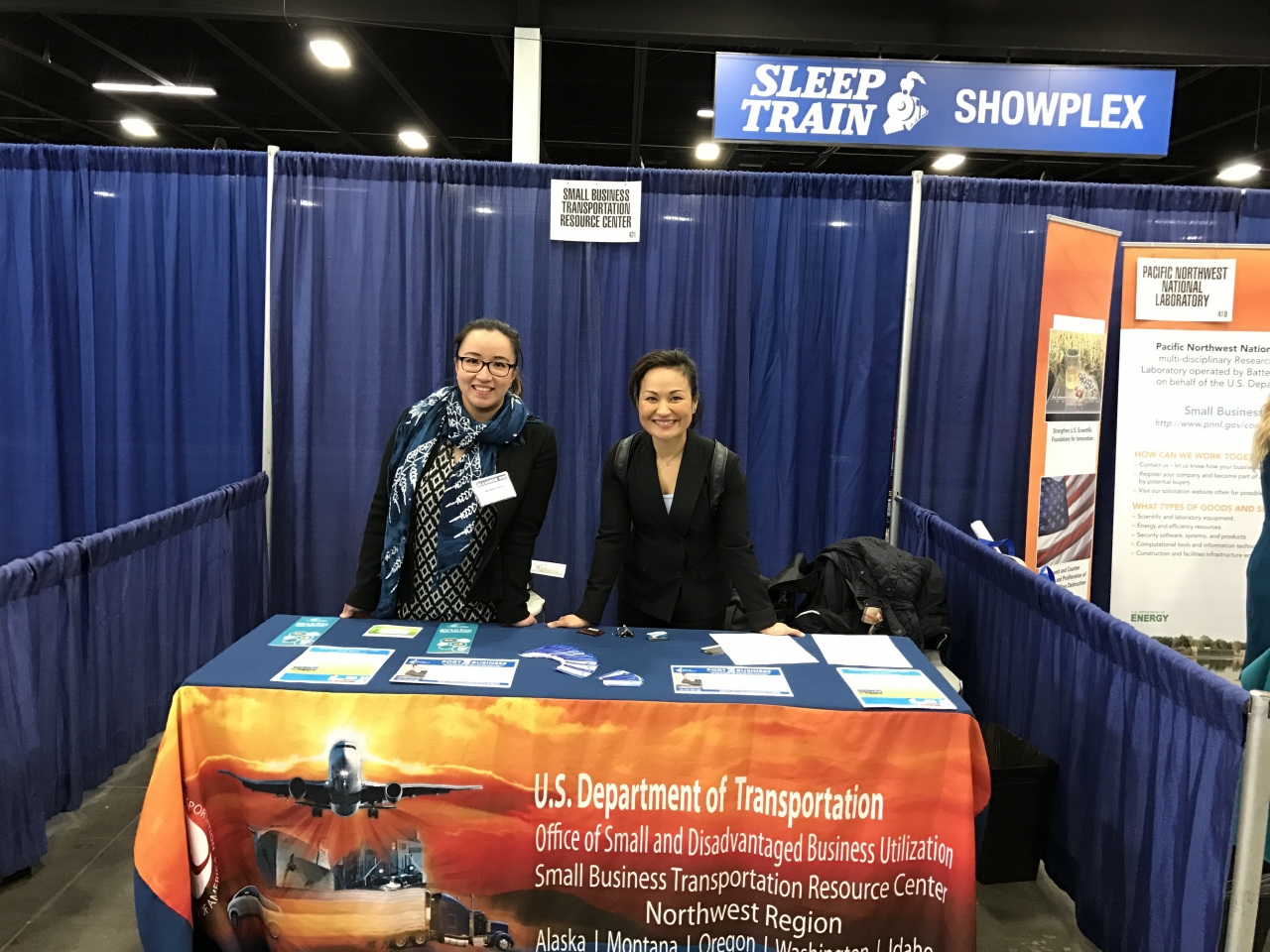 ---
Northwest SBTRC Contact Information:
808 134th St. S.W., Suite 101
Washington
Sound Transit – Diversity Program
Tim Callaghan
Senior Administrative Specialist
(206) 689-4914
tim.callaghan@soundtransit.org
Sound Transit Website
Washington State DOT – Office of Equal Opportunity (OEO)
Jackie Bayne
Business Development & Compliance Consultant
(360) 705-7084
Washington State Office of Minority and Women's Business Enterprises (OMWBE)
(360) 664-9776
King County
Sandy Hanks
(206) 263.9717
Port of Seattle - Office of Social Responsibility
City of Seattle - City Purchasing and Contracting Services
Forrest Gillette
Senior Strategic Advisor
(206) 684-3081
M. Catharine Powers
Underwriting Marketing Specialist
Surety Bond Guarantee Program - Area Office Four
(206) 553-8541
Other Links:
Washington Procurement Technical Assistance Center (PTAC) http://washingtonptac.org/
Washington Small Business Development Centers (SBDC) www.wsbdc.org
Oregon
Oregon Association Minority Enterprises (OAME)
Matt Rutter
Director of Programs & Marketing
(503) 249-7744 ext. 110
Karla Holland
(503) 685 8319
Tiffany Hamilton
Trimet
Governor's Office of Economic & Business Equity
Cheryl Myers
Director of Economic & Business Equity
Office of Governor John Kitzhaber
(503) 986-6522
OR Office of Economic & Business Equity website
 
Oregon Government Contract Assistance Program (GCAP)
Lisa Brookshier
Procurement Counselor
Government Contract Assistance Program
(503) 630-6847
Port of Portland
Michelle DePass
Senior Procurement Analyst, MWESB Finance and Regulatory Services
(503) 813-7596
Alaska
Alaska DOT – Civil Rights Office
Norma Lucero
Support Services Coordinator
907-269-0844
National 8(a) Association
Cory Carroll
Association of General Contractors (AGC) Alaska
Barbara Rowland
Membership/Marketing Coordinator
907-561-5354
Alaska Minority Business Development Agency (MBDA) 
Nolan Klouda
Project Director
907-786-5458
Idaho
Idaho DOT
Elizabeth "Liz" Healas
DBE Program Coordinator
208-334-4442
Idaho PTAC
Gary Moore
Program Manager
208-334-2650 ext. 2140
Updated: Friday, June 9, 2017