DRC Handbook Chapter 8: Training and Outreach
Overview
DRC offers training and outreach to all DOT Departmental Offices/OAs on a range of disability-related employment topics. Managers and employees may request trainings or briefings to help improve understanding of disabilities, the use of assistive technology, and disability etiquette. When possible, employees with disabilities within the requesting organization's work group are encouraged to participate. Training options range from a 10 minute briefing on DRC services to a more comprehensive 90 minute presentation on improving the employment of persons with severe/targeted disabilities at the U.S. Department of Transportation.
DRC collaborates with key stakeholders within each DOT Departmental Office and OA to incorporate their specific training goals and objectives. With logistical and marketing support from the OA information can be delivered via videoconferences, webinars, and live briefings and trainings. The following are a few of the most frequently requested briefings and trainings.
Overview of DRC Services -- Includes a description of DRC services, processes and success stories of employees with disabilities employed in the Department of Transportation.
Diversity and Disabilities in the U.S. Department of Transportation -- Provides information about disability culture, including appropriate (current) terminology, overview of DRC services, employment success stories, and introduction to assistive technologies.
Bridging Communication Between Hearing and Deaf Employees -- Improves understanding of Deaf culture, tips for communicating for Deaf and hearing employees, basic instruction on workplace-related American Sign Language, and introduction to assistive technology frequently used by Deaf and hard of hearing employees.
Employing Persons with Disabilities in the Department of Transportation -- Provides information relating to the current Federal, DOT, and individual Departmental Office/OA employment statistics on the employment of people with severe/targeted disabilities. Resources and tools are highlighted to help managers hire, advance and retain qualified individuals with disabilities at DOT. Success stories of current employees with disabilities are also included with their permission.
Most training requests require a minimum of 30 days' notice to ensure ample time for marketing, travel arrangements, and logistics management. Opportunities for a DRC presenter to travel to DOT regional and field offices are available on a first come, first served basis. For more information, contact the DRC.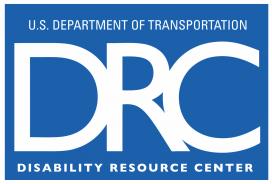 Handbook Chapter Index
DRC Interpreting Services
drc.interpreters@dot.gov (Region I)
drc.interpreters.reg@dot.gov (Region II)
Phone: 202-366-6242
Last updated: Monday, October 19, 2020