Disability Resource Center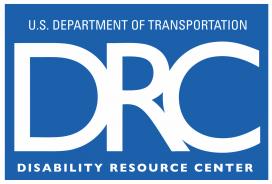 Overview
The Department of Transportation's Disability Resource Center (DRC) provides job accommodations and related services to DOT employees and job applicants. The Workforce Quality Division, within the Departmental Office of Human Resource Management operates the DRC with guidance from the Departmental Office of Civil Rights. Services are provided to all DOT operating administrations nationwide. DRC also has a service agreement with the U.S. Coast Guard.
I'd Like to:
What's New?
DRC Interpreting Services
drc.interpreters@dot.gov
Phone: 202-366-6242
Join Our Mailing List!
Want to receive the latest news and announcements from DRC? To join, send an e-mail message to drc@dot.gov
Please include the words, "mailing list" in the subject line.
Last updated: Friday, November 24, 2023