Employment of People with Disabilities
Overview
The U.S. Department of Transportation is committed to being a model employer of a diverse workforce that includes people with disabilities, especially those with targeted disabilities (blindness, deafness, partial and full paralysis, missing extremities, dwarfism, epilepsy, intellectual disabilities, and psychiatric disabilities).
Federal agencies are required to set goals for the employment and advancement of people with targeted disabilities. In FY2016, the Department of Transportation's hiring goal was 149 individuals with disabilities, and 72 individuals with targeted disabilities.  During that time, DOT hired 429 individuals with disabilities and 53 individuals with targeted disabilities, which exceeded our goal by 288.
Qualified people with severe or targeted disabilities may be hired either non-competitively through the Schedule A Hiring Authority, or for FAA job opportunities using the On-The-Spot Hiring Authority . Applicants with disabilities can also choose to participate in the competitive hiring process. For more information about the Schedule A Hiring Authority, visit the OPM website on employment of people with disabilities. The Schedule A Hiring Authority is a regulation issued by the Federal government's Office of Personnel Management (OPM), that gives managers the flexibility to hire qualified persons with disabilities without competition.
Information for Applicants with Severe/Targeted Disabilities
Applicants should carefully read each non-competitive vacancy announcement and follow the application processes as indicated. There may be some slight variances among them.
Here are some helpful tips and tools to help you achieve Federal employment:
Information for DOT Managers
Information for Students with Disabilities
The Workforce Recruitment Program
The Workforce Recruitment Program (WRP) is a recruitment and referral program that connects federal and private sector employers nationwide with highly motivated college students and recent graduates with disabilities who are eager to prove their abilities in the workplace through summer or permanent jobs.
The U.S. Department of Labor's Office of Disability Employment Policy (ODEP) and the U.S. Department of Defense Office of Diversity Management & Equal Opportunity (ODMEO) manage the program, which continues to be successful with the participation of many other federal agencies and sub-agencies. Since the program's expansion in 1995, over 6,000 students and recent graduates have received temporary and permanent employment opportunities through the WRP.
In 2011, the Office of Personnel Management (OPM) highlighted the WRP as a model strategy in its guidance to federal agencies regarding the recruitment and hiring of people with disabilities in response to Executive Order 13548, Increasing Federal Employment of Individuals with Disabilities.
Annually, trained WRP recruiters from federal agencies conduct personal interviews with interested candidates on college and university campuses across the country. Candidates represent all majors, and range from college freshmen to graduate students and law students, and with various levels of experience, even including some Veterans. Information from these candidate interviews is compiled in a searchable database that is available through this website to federal Human Resources Specialists, Equal Employment Opportunity Specialists, and other hiring officials in federal agencies. Information on WRP can be found here: https://wrp.gov.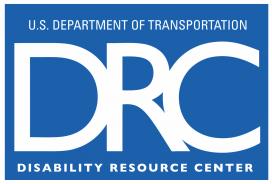 On November 3, 2016, Dr. Duronne Walker, DOT  Departmental Selective Placement Program Manager was presented with the "Champions in Partnership Award" from the Virginia Department for Aging and Rehabilitative Services (DARS) at their annual Disability Awards Event.  Dr. Walker was recognized for his Partnership with DARS in developing the Job Club at DOT, which has resulted in several hires and interviews.
DRC Interpreting Services
drc.interpreters@dot.gov
Phone: 202-366-6242
Last updated: Thursday, October 15, 2020