Highway Traffic Safety Professional Certificate
The Transportation Safety Institute administers the Highway Traffic Safety Professional Certificate (HTSP) for the National Highway Traffic Safety Administration (NHTSA). This program is available to NHTSA personnel and their partners – State Highway Safety Offices (SHSO), grant subrecipients, and law enforcement personnel.  This program recognizes those safety professionals who have successfully completed the required coursework and core competencies to earn the HTSP certificate.
The HTSP consists of Six Core courses:  Foundations of Highway Safety, Milestones of Highway Safety Program Development, NHTSA Highway Safety Grants Management, Data Driven Highway Safety Planning, Management Review (RPM only), and Effective Speaking and Presenting.  In addition, there are six specializations that safety professionals may complete:  Occupant Protection, Impaired Driving, Speed/Aggressive Driving, Pedestrian/Bicycle Program Management, Vulnerable Road Users, and Law Enforcement Liaison.
Please contact the Transportation Safety Institute at trafficsafetytraining@dot.gov. Tel# 405 954 3112.
TSI has been accredited as an Authorized Provider by the International Association for Continuing Education and Training (IACET).  In obtaining this accreditation, TSI has demonstrated that it complies with the ANSI/IACET Standard which is recognized internationally as a standard of good practice. As a result of their Authorized Provider status, TSI is authorized to offer IACET CEUs for its programs that qualify under the ANSI/IACET Standard.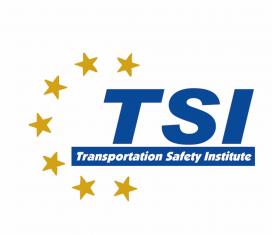 Last updated: Friday, January 18, 2019