The Critical Role of Rural Communities in the U.S. Transportation System
Rural communities are a core component of the American economy, carrying passeng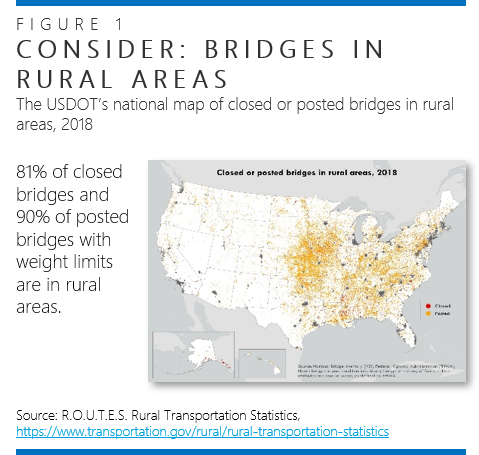 ers and freight from bedrock American industries such as agriculture, mining, forestry, and manufacturing. Over 69% of America's road miles are located in rural areas, totaling over 6 million miles. Yet rural America faces significant challenges regarding the quality and maintenance of its transportation infrastructure. In addition, demand for regionally-focused and connected public transit solutions is rising, as 20% of rural residents did not have access to intercity bus transportation and 59% did not have access to intercity rail transportation as of 2018.
Investments in transportation can facilitate public safety, efficiency of the transportation network as a whole, and movement of goods and services. In alignment with the Department's safety mission, road safety is a top concern for communities across the country. Rural roadways have a disproportionately high number of fatalities relative to roadways in more populated areas. While 19% of Americans live in rural areas, 46% of traffic fatalities occurred on rural roads in 2018. Infrastructure rehabilitation, driver education programs, and other safety initiatives may produce changes to these statistics and improve the safety of rural roadways.
In addition to safety, rural transportation infrastructure is important for the movement of goods and connectivity to commercial markets. Today's economy has led to an increased demand to move large volumes of products across the country and support the increased size and weight of the modern vehicles and equipment. Infrastructure investments may assist suppliers in meeting this demand and maximize the efficiency and effectiveness of the existing transportation network. Furthermore, strong transportation infrastructure can enhance quality of life, particularly in rural areas, by improving connectivity, mobility, and access to services like education and healthcare.
Last updated: Friday, July 23, 2021