What is Spectrum Management?
 PNT & Spectrum Management Fact Sheet
Spectrum Management is the art and science of managing the use of the radio spectrum in order to minimize interference and ensure radio spectrum is used to its most efficient extent and benefit for the public. For USDOT this is focused on supporting safe, efficient and economical transportation.
Radio spectrum is a limited resource that is rapidly approaching its limits. Demand for commercial spectrum to support broadband wireless communications has led the government to consider repurposing various radio frequencies, including the satellite communications bands next to GPS.
In the United States, the Federal Communications Commission (FCC) regulates the emission of non-Federal, private radio signals, dictating what is allowed and what it not. Most electronic devices are required by law to be tested for compliance with FCC regulations. And even with FCC compliance, electronic devices can still interfere with one another's radio signals. While minimal radio signal interference may seem like a small annoyance, clear, unobstructed transmission of radio frequencies is crucial to the optimal functioning of critical and life-saving services such as fire, rescue, law enforcement and emergency medical services (EMS).
Many Federal agencies use radio frequency spectrum to perform vital operations. The National Telecommunications and Information Administration (NTIA) manages the Federal government's use of spectrum, ensuring that America's domestic and international spectrum needs are met while making efficient use of this limited resource. NTIA carries out this responsibility with assistance and advice from the Interdepartment Radio Advisory Committee and by... More
In 2012, the National Executive Committee for Space-Based Positioning, Navigation, and Timing decided to draft new GPS spectrum interference standards to help govern future allocation of commercial use of spectrum bands adjacent to the GPS signals.  Learn More.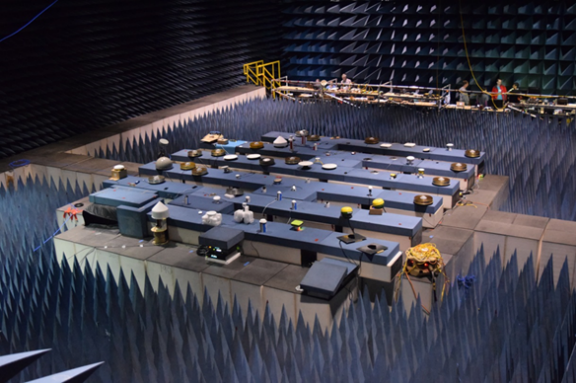 The goal of the U.S. Department of Transportation (DOT) Global Positioning System (GPS) Adjacent Band Compatibility Assessment is to evaluate the adjacent radiofrequency band power levels that can be tolerated by GPS and Global Navigation Satellite System (GNSS) receivers and to advance the Department's understanding of the extent to which such power levels impact devices used for transportation safety purposes, among numerous other civil GPS/GNSS applications. 
The Department of Transportation's (DOT) approach to this task is to develop power limit criteria for transmitters in the bands near GPS. DOT prepared a GPS Adjacent-Band Compatibility Assessment Plan providing a framework for the development of the criteria.
The GPS Adjacent Band Study has been the product of an extensive and transparent process to gather stakeholder views and input.  DOT held a number of public workshops to discuss development of the test plan and review the draft test plan document.  After the Test Plan was finalized, GPS/GNSS receiver testing was conducted at the U.S. Army Research Laboratory's Electromagnetic Vulnerability Assessment Facility (EMVAF) at White Sands Missile Range (WSMR) in New Mexico in the spring of 2016. 
Results included Interference Tolerance Masks (ITMs) based on 1 dB of C/N0 of degradation to the receiver from interference adjacent to GNSS signals.      
DOT as a part of National Spectrum Management
Last updated: Friday, October 18, 2019