DRC Handbook Chapter 10: Services Outside the Scope of the DRC
Overview
In some situations, the employee and supervisor/decision maker might request an accommodation that the DRC cannot provide because that accommodation is beyond DRC's authority.  If possible, in those instances the DRC will provide information and resources on how the accommodation can be obtained outside of the DRC, should the supervisor/decision maker and employee wish to pursue the accommodation.
Factors that impact the determination of which products and services fall outside of the scope of the DRC include, but are not limited to: 
IT infrastructure and security requirements,
procurement regulations,
regulations governing the use of the WCF,
policies established by the DOT AMC,
availability of products,
EEOC rulings.
The following sections address specific items considered not in the scope of the DRC at the time this document was prepared and are affected by one or more of the potential factors listed above.  This is not an exhaustive list as the DRC is not in control of regulations effecting what it can and cannot do, thus this list will change to reflect the current status of rules, regulations and laws.
10.1  Ergonomic Chairs
The DRC does not fund the purchase of ergonomic chairs as a reasonable accommodation. If it is determined that an ergonomic chair is required for an individual with a disability, the employee's Departmental Office or OA is responsible for funding this accommodation. This was determined by the DOT AMC in 2005.  The DRC can provide technical assistance by performing or arranging for an ergonomic seating assessment for the individual, and/or provide the employee and their supervisor/decision maker with contact information for the DOT Facilities personnel responsible for providing chairs.  Sometimes the DRC is able to suggest other products or techniques that can be provided as an accommodation that will address the identified situation, and might fall within the scope of the DRC. 
10.2  Monitors and Other Computer Equipment
In the past, the DRC provided large screen monitors as a form of reasonable accommodation for individuals with low vision. Recently, the standard desktop monitors have been upgraded to include larger screens and/or LCD displays. If an individual still has an older 15-inch monitor or smaller, he or she should request an upgrade to the newer standard models through the employee's Departmental or OA IT point of contact.  The DRC does not provide computers and related equipment that are otherwise available from the employees IT support services.  If an item is insufficient to support assistive technology (AT), the DRC will fund only the difference in that item, such as, a memory or video upgrade.  The DRC cannot pay for the cost difference for an item, only for an item added to the standard office equipment item.
10.3  Keyboards
The DRC does not provide standard keyboards as a form of reasonable accommodation. The Microsoft Natural Ergonomic Keyboard is one example of a keyboard which is now considered standard office equipment.  If the keyboard is highly specialized, such as a keyboard designed specifically for one-handed use, those keyboards are considered an alternative keyboard and can be provided by the DRC as an accommodation. 
10.4  Personal Use Items
The DRC does not provide items that would be considered personal use items as a form of reasonable accommodation.  Examples of Personal Use Items include the following, but are not limited to:
wheelchairs, scooters, [other than those used for the scooter loan program] walkers, crutches or canes;
hearing aids;
eyeglasses;
alternative augmentative communication devices; or
handheld magnifiers.
If an employee needs a personal use item for daily functioning (including job functions) the DRC analyst may be able to assist in identifying community resources for obtaining such items.
According to EEOC guidance on Reasonable Accommodations:
"An employer does not have to provide as reasonable accommodations personal use items needed in accomplishing daily activities both on and off the job. Thus, an employer is not required to provide an employee with a prosthetic limb, a wheelchair, eyeglasses, hearing aids, or similar devices if they are also needed off the job. Furthermore, an employer is not required to provide personal use amenities, such as a hot pot or refrigerator, if those items are not provided to employees without disabilities. However, items that might otherwise be considered personal may be required as reasonable accommodations where they are specifically designed or required to meet job-related rather than personal needs."
10.5  Architectural/Infrastructure Modifications as a Reasonable Accommodation
The DRC does not fund removal of architectural barriers that may be required as a reasonable accommodation. However, the DRC can provide technical assistance for addressing these issues.
Other systems might exist within the workplace infrastructure that could create a barrier to an employee with a disability. These systems can include IT systems and telecommunications services. The DRC does not fund alterations to these infrastructure systems which may be needed as a reasonable accommodation, but can provide technical assistance in addressing and correcting barriers that potentially may exist in system design.
10.6  Job Restructuring, Teleworking, Reassignment
The DRC does not provide Job Restructuring, Teleworking, or Reassignment as a reasonable accommodation.  In some cases, altering the essential functions of a job, including how or where it is performed, makes sense in specific situations.  In these cases, these types of accommodations are provided by the Departmental or OA supervisor/decision maker with consultation from the OA HR or Civil Rights Office, as appropriate
10.6.1  Provision of Assistive Technologies in the Telework Environment
While the DRC cannot grant Teleworking as an accommodation, if a supervisor/decision maker decides to grant Teleworking as a reasonable accommodation, then the DRC can assist by providing needed reasonable accommodations equipment in the telework environment. These items are typically funded through the DOD CAP program.
10.7 On-Demand or Full-time PA, Reader or Sign Language Interpreter
In some instances, it might be appropriate to hire a PA, sign language interpreter or reader for on-demand services or as a full-time reasonable accommodation for an individual, rather than using the scheduled services that the DRC provides. If this solution is determined by the supervisor/decision maker to be effective for the employee, the DRC does not provide funding or hiring slots to support this effort.  A PA, sign language interpreter or reader can be hired to assist an employee with a severe or targeted disability under the Schedule A hiring authority. Departmental Offices and OAs should consult their agency SPCs for information and assistance with this process. One exception is the Federal Aviation Administration (FAA) which does not use the Schedule A hiring authority.  FAA supervisors/decision makers should contact FAA's Disability Program Manager to determine viable options  Although DRC does not fulfill the request for on-demand PAs, Interpreters or readers, the DRC Departmental Selective Placement Program Manager can assist the decision maker and Departmental or OA Selective Placement Coordinator in identifying qualified individuals to fill the position.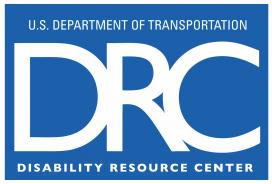 Handbook Chapter Index
DRC Interpreting Services
drc.interpreters@dot.gov (Region I)
drc.interpreters.reg@dot.gov (Region II)
Phone: 202-366-6242
Last updated: Thursday, October 15, 2020