DRC Handbook Appendix C: Helpful Resources on the Reasonable Accommodation Process
Resources
DOT Reasonable Accommodation Order
The DOT Reasonable Accommodation Order (DOT Order 1011.1), "Procedures for Processing Reasonable Accommodation Requests by DOT Job Applicants and Employees with Disabilities," can be found here:
DOT Operating Administration Disability Program Managers
DOT managers (decision makers) and employees are encouraged to seek the assistance of their Operating Administration Disability Program Manager (DPM) for assistance with the reasonable accommodation process.  A listing of DPMs is located on the Departmental Office of Civil Rights website.
Job Accommodation Network
For helpful information on a variety of disabilities and possible accommodation solutions, visit the Job Accommodation Network.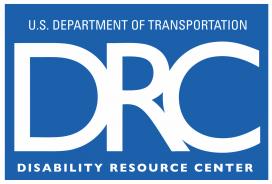 Handbook Chapter Index
DRC Interpreting Services
drc.interpreters@dot.gov (Region I)
drc.interpreters.reg@dot.gov (Region II)
Phone: 202-366-6242
Last updated: Thursday, October 15, 2020