Aviation Maintenance Technician
Overview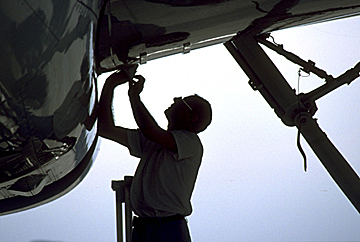 Aviation maintenance is a dynamic career field. Aviation Maintenance Technicians work in a number of highly technical specialty occupations such as airframe and powerplants, maintenance, avionics (e.g., navigation, communication, and other electronic based or depended systems), and instrument repair (e.g., navigation, flight, and engine). These individuals hold the very important responsibility of keeping our fleet of U.S.-registered aircraft operating safely and efficiently.  To accomplish this goal of 100% reliability that aviation industry and the flying public demands, these maintenance professionals maintain, service, repair, and overhaul aircraft components and systems.
What is your military experience?
The armed services may obtain valuable training and experience in aircraft maintenance within their current military occupational specialty (MOS) that is one the FAA credits for practical experience for the mechanics certificate.   The following document includes the updated, new, and the older MOS codes for the U.S. Army, Air Force, Navy, Marine Corps, and Coast Guard enlisted personnel. Use the new codes for active duty time after January 1990. The older codes are still valid for persons wishing to credit their military aviation maintenance experience toward meeting the requirements of the FAA airframe and powerplant mechanic certificate.
A list of these acceptable MOS positions can be found in Advisory Circular AC 65-30A, Appendix A or in FAA Flight Standards Information Management System 8900.1.
How can I learn more about AMT careers and additional training?
You can find general information about careers in aviation maintenance at the following website: 
You can find additional training resources for careers in aviation maintenance here: 
How do I learn more about the Joint Services Aviation Maintenance Technician Credentialing Council (JSAMTCC) certification and testing programs for veterans?
Aviation maintenance technicians in the military may apply for the airframe and powerplant (A&P) certification based on his or her military experience and qualifications.  The JSAMTCC program assists with this process.  More information on this program is available here: 
If you are interested in obtaining your A&P certification, please review the requirements at the following website:
If you think you are ready to test for your A&P, this is where you can find a more information about testing in your local area: 
What are The Veterans Resources for Training and Certifications?
You may be able to use veteran's benefits to cover the cost of training or testing for specific certifications/licenses.  For more information about benefits to help support your costs visit:
Who do I contact for more information?
For more information regarding questions of converting military experience to civilian license, contact your local Flight Standards District Office (FSDO).
I have my certification. Where can I find available positions?
There are several search engines that are available specifically for veterans as they explore civilian careers Suggested Key words for AMT positions as you use these job search tools include "Airframe and Powerplant" and  "Aviation Maintenance Technician."
Last updated: Tuesday, March 30, 2021