Safer Speeds
Promote safer speeds in all roadway environments through a combination of thoughtful, context-appropriate roadway design, targeted education and outreach campaigns, and enforcement.
The Department believes it is important to prioritize safety and moving individuals at safe speeds.1 Speeding increases both the frequency and severity of crashes, yet it is both persistent and largely accepted as the norm amongst the traveling public.2 Unsafe speeds are now a well-documented and understood factor in death and injury, especially among people outside of a vehicle.
---
Speeding is a significant contributor to deaths on our roadways, and is particularly hazardous to pedestrians.

Yet, speeding remains worryingly common.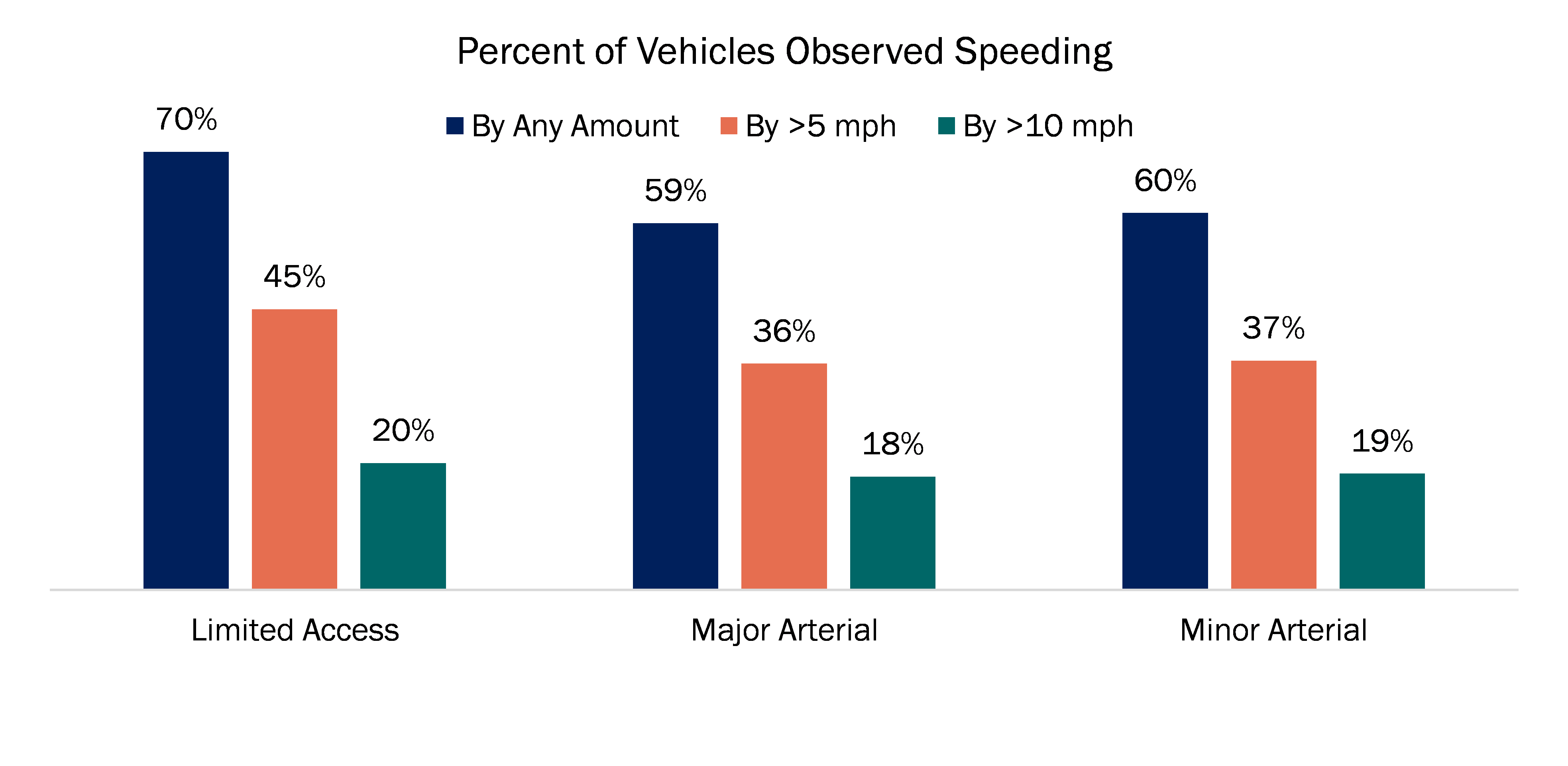 Sources: Fatality Analysis Reporting System; Early Estimates of Motor Vehicle Traffic Fatalities and Fatality Rate by Sub-Categories in 2020, DOT HS 813 118, June 2021; AAA Foundation for Traffic Safety, Impact Speed and a Pedestrian's Risk of Severe Injury or Death; National Traffic Speeds Survey III: 2015, DOT HS 812 485, March 2018. 
---
In alignment with the Safe System approach, achieving safe speeds requires a multi-faceted approach that leverages road design and other infrastructure interventions, speed limit setting, education, and enforcement. Roadway design and other infrastructure factors play a significant role in managing speeds and can deter excessive speeding behaviors from occurring in the first place.
Key Departmental Actions to Enable Safer Speeds
Update and lead the implementation of a robust, multimodal speed management program through new guides and close partnerships with stakeholders.
Develop and improve the information available for setting speed limits through Proven Safety Countermeasures and the Manual of Uniform Traffic Control Devices, providing a range of methodologies depending on the context of the roadway. Clarify the applicability and correct use of key criteria used in setting speed limits such as the 85th percentile. Provide technical assistance to all sizes of communities to determine appropriate speed limit setting, considering external assistance from leading practitioners and research organizations.
Revise FHWA guidance and regulations to take into account the safety of all users by encouraging the setting of context-appropriate speed limits and creating roadways that help to "self-enforce" speed limits. Provide noteworthy practices for re-engineering roads to slow down vehicles rather than relying primarily on enforcement to manage speeding. Promote speed safety cameras as a proven safety countermeasure.
Make funds available to communities through discretionary grant programs such as the Safe Streets and Roads for All program, and through behavioral safety programs to study and pilot automated or enforcement strategies focused on speeding that are designed to ensure their equitable application.
1Source: NHTSA FARS files 2010-2018, FARS 1st release 2019.
2 WHO: Facts - Road Safety - Speed
Last updated: Thursday, January 27, 2022