The Roadway Safety Problem
Our Nation's Roadway Safety Crisis
Explore interactive data visualizations to learn about the significant impact of motor vehicle deaths in our communities and where progress is being made in eliminating roadway deaths.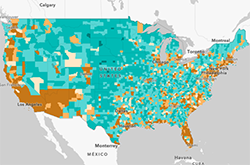 Almost 95% of people who die using our Nation's transportation networks are killed on our streets, roads, and highways, and this threat to our safety is getting worse. Read the National Roadway Safety Strategy to learn about what U.S. DOT is doing to address this crisis.
---

Source: Bureau of Transportation Statistics
---
In 2020, an estimated 38,680 people were killed in motor vehicle crashes, of which an estimated 6,236 were people walking. In the first six months of 2021, an estimated 20,160 people were killed in motor vehicle crashes, up an alarming 18.4% over 2020. That is the largest number of projected fatalities for January to June since 2006.2 Millions more are injured – sometimes permanently – each year. 
---
Roadway fatalities and the fatality rate declined consistently for 30 years, but progress has stalled over the last decade and went in the wrong direction in 2020.
Source: Fatality Analysis Reporting System
---
Traffic crashes are a leading cause of death for teenagers in America, and disproportionately impact people who are Black and American Indian. The rate of fatalities per 100 million vehicle miles traveled has not substantially improved over the last 10 years, and increased significantly in 2020.
---
42,915 people died on America's roads in 20213
Compared to 2020, fatalities increased:
10.5% overall. 42,915 lives were lost, the highest total number recorded since 2007
16% on urban roads
14% among drivers ages 65 and older
13% among people walking, totaling 7,342 lives lost, the highest recorded in decades
13% among fatal crashes involving at least one large truck
9% among motorcyclists, totaling 6,101 lives lost, the highest total ever recorded
Source: Fatality Analysis Reporting System
---
1NHTSA: Early Estimates of Motor Vehicle Traffic Fatalities and Fatality Rate by Sub-Categories in 2020
2NHTSA: Early Estimate of Motor Vehicle Traffic Fatalities for the First Half (January–June) of 2021
3Early Estimates of Motor Vehicle Traffic Fatalities and Fatality Rate by Sub-Categories in 2021
Last updated: Thursday, February 2, 2023