Post-Crash Care

Enhance the survivability of crashes through expedient access to emergency medical care, while creating a safe working environment for vital first responders and preventing secondary crashes through robust traffic incident management practices.
Our ability to save lives does not end when a crash occurs. Appropriate medical care for people injured in a crash to prevent their injuries from becoming fatal is critical. 
The timely arrival of emergency responders and well-trained Emergency Medical Services (EMS) clinicians is a major factor ensuring an injured person receives the medical care they need to survive a crash. This is especially critical in rural and Tribal communities, where response times are longer and EMS resources more limited. 
Access to Emergency and Trauma Care Is Critical to the Survivability of Crashes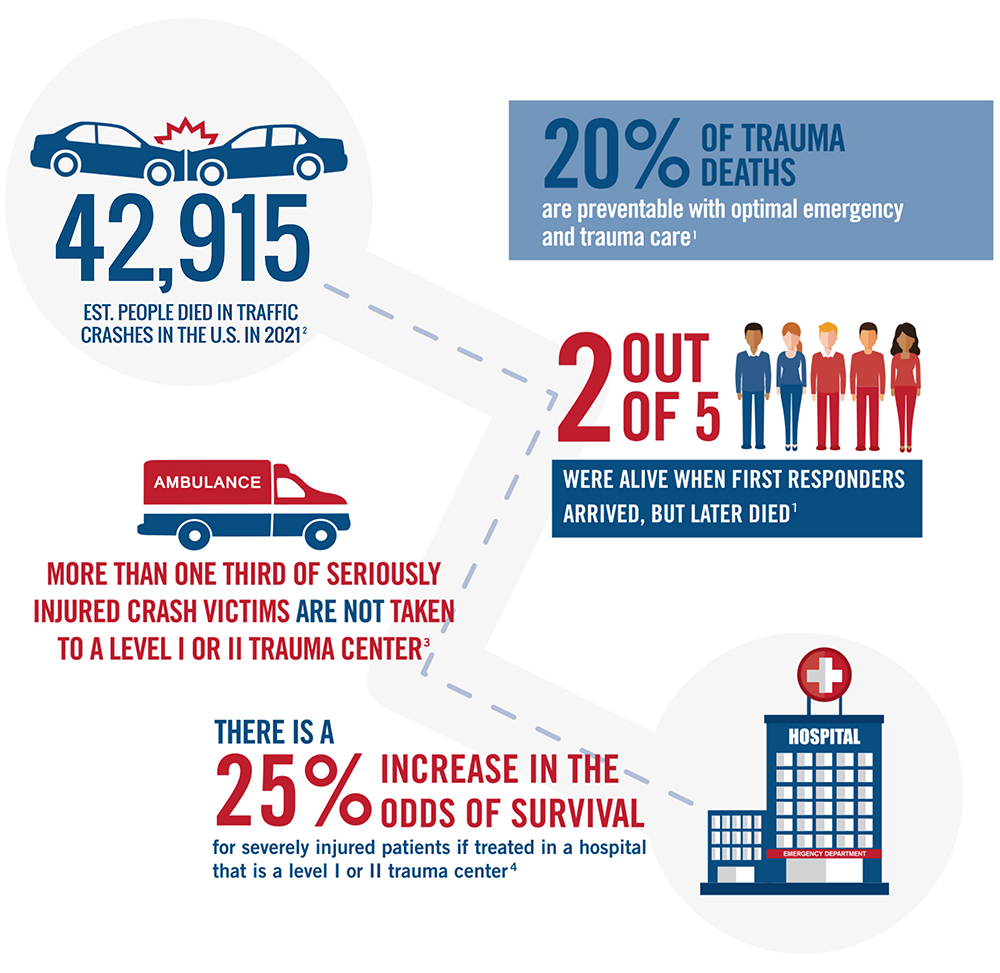 Sources: (1) National Academies of Sciences, Engineering and Medicine. A National Trauma Care System: Integrating Military and Civilian Trauma Systems to Achieve Zero Preventable Deaths After Injury. (2) NHTSA Fatality Analysis Reporting System (FARS). (3) NHTSA National Automotive Sampling System-Crashworthiness Data System (NASS-CDS). It is not known the percentage who were later transferred to a level I or II trauma center. (4) Mackenzie et al, 2006. This study compared level I trauma centers to non-trauma centers.
---
Through the NRSS, the Department is committed to supporting activities that improve post-crash care. Managing the scene of a crash and providing a safe environment for first responders and passing travelers are also critical elements of delivering effective post-crash care.
Key Departmental Actions to Enable Safer Post-Crash Care
Last updated: Friday, October 14, 2022