Transit Safety and Security Program (TSSP) Certificate
The TSI is also responsible for managing and administering the Transit Safety and Security Program (TSSP).  This certificate program recognizes the rail and bus transportation safety and security professionals who have successfully completed the required course work and core competencies to earn a TSSP Certificate of Completion.
A transit professional that successfully completes the four (4) required courses within a consecutive three (3) year timeframe is eligible to apply.  The Certificate of Completion indicates that the individual has a broad-based knowledge of the safety and security principles applicable to transit system safety, operations and management.  Certificate holders are provided the necessary information to develop and implement system safety, security, and emergency management program plans. The certificate is awarded upon successful completion of the following courses. Individuals can choose either path or both.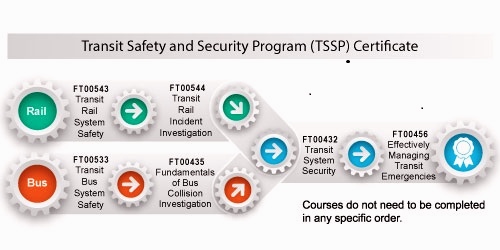 NOTE:
Individuals who have received TSI's Transit Safety and Security Program certificate have met the course requirements for the World Safety Organization (WSO) certification. To obtain WSO certification, applications for membership and certification must be submitted according to WSO Membership and Certification policy.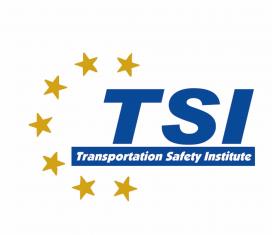 Contact TSI
Transportation Safety Institute
6500 South MacArthur Boulevard
Oklahoma City, OK 73169
United States
transit@dot.gov
Phone: 405-954-3682
Business Hours: 
8:00am-4:30pm CT, M-F
Last updated: Monday, October 10, 2022