Atorod Azizinamini
Very soon, the average life of the nation's more than 610,000 bridges will exceed 50 years – the lifespan for which most were designed. Add to this the fact that about 25% of our bridges are deficient and need repair or replacement. A good number of these bridges are in rural areas, and are relatively short, less than 60 feet long. The cost to society for replacing or repairing these bridges is significant and goes way beyond the cost of labor and material needed for the bridge itself-Interruption to traffic, reduced mobility and safety hazards created by onsite construction activities. As you might guess, a delay in replacing or repairing bridges will cost society even more.
While challenges abound, opportunities to build the next generation of bridges should be welcomed. We need to build bridges that last longer and eliminate onsite construction, while being economical. One of the major initiatives to develop novel and innovative technologies is the U.S. DOT's University Transportation Center (UTC) initiative. In 2013, U.S. DOT selected Florida International University (FIU) as the location of one of 20 Tier One UTCs devoted to Accelerated Bridge Construction. We, in the Department of Civil and Environmental Engineering of FIU's College of Engineering and Computing, are working with our partner universities to design and construct the next generation of bridges.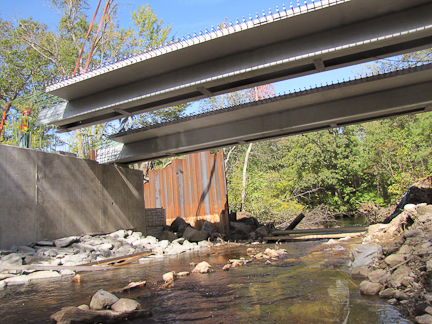 We have developed and successfully implemented the revolutionary folded plate steel bridge system that allows the replacement of short span bridges in a matter of days. We have also developed the most comprehensive guidelines for enhancing the service life of existing and new bridges.
We are also educating the workforce capable of building these bridges. On a monthly basis, we educate more than 4,000 bridge professionals. Our goal is to continue to develop novel ideas and solutions to effectively address challenges facing the nation's bridges.
Atorod Azizinamini, Ph.D., P.E., is Professor, Chairperson and Director of the Accelerated Bridge Construction University Transportation Center in the Department of Civil and Environmental Engineering in the College of Engineering and Computing at Florida International University.
Last updated: Wednesday, October 21, 2015